Matthew Paige Damon — is an American Actor, Film Producer and an Academy Award winning Screenwriter, who rose to prominence as both Acting and Screenwriting talent in 1997 when he co-wrote and co-starred alongside his long time best friend Ben Affleck (but with Damon in the title role with Robin Williams) in the critically acclaimed Gus Van Sant film Good Will Hunting (1997 movie); The film received widespread praise for it's fresh Casting with dominant acting capabilities. Furthermore, it was a huge financial success, grossing over US$225 million during its theatrical run with only a modest $10 million budget. It was nominated for nine Academy Awards, including the Academy Award for "Best Picture," "Best Actor" for Damon and "Best Supporting Actress" for Minnie Driver. It went on to win two: "Best Supporting Actor" for Williams and "Best Original Screenplay" for Affleck and Damon.
Now, to keep Damon's story short and sweet one can sum it up like this: Born in Cambridge, Massachusetts, began acting in high school, but focused more on his academics. Given, the fact that, he was quite a brilliant young man who attended

Harvard University

, majoring in

English Literature

, the upshot was rather surprising or seemingly abnormal then regular. While just 12 credits shy from getting a major degree, he dropped out to pursue an acting career. (Because every Harvard dropout turned out to be someone famous right?). He moved to Los Angeles to live with his longtime best friend

Ben Affleck

, and his brother

Casey Affleck

. All three of them are leading actors of

Hollywood

industry.
Damon is one of the few leading actors (A-Listed = USD $20 million in salary per film) in the Movie Business and Industry. Appearing in Forbes' power list every year as one of the most bankable stars, he is one of the highest-grossing actors of all time. In addition, he has received several accolades, including an Academy Award from four nominations, two Golden Globe Awards from seven nominations, and has been nominated for two BAFTA and six Emmy Awards.
This one Matt Damon Quote I really think sums up his workaholic agenda:
"I'd had people say, 'You'll enjoy being famous for a week, and you'll never enjoy it again.' But I don't think I had that week. I may have been working and missed that moment." — Matt Damon;
In addition to acting in films, Damon has performed Voice Over work in both animated and documentary films, and has established two production companies with Affleck.
He has been actively involved in charitable work, including the ONE Campaign, H2O Africa Foundation, Feeding America, and Water.org. With his wife, Luciana Bozán Barroso, he has three daughters and a stepdaughter from Barroso's prior marriage.
---
Facts and Trivia
While Matt might have starred in the epic Science Fiction The Martian (2015 movie) and lived on Mars but in reality he lives right here on Earth and among us. But that shouldn't rule out the possibility of the fact that there are many things about him that you may not know and things that are truly out of this world would it?
So. . .
Here's a huge list of Facts as well as some unknown Trivia about the legendary "Jason Bourne" actor, Matt Damon:
His full name is Matthew Paige Damon and he was born on October 8, 1970, in Boston, Massachusetts.
He shares a birthday with Born Sigourney Weaver, Kristanna Loken and Nick Cannon.
Damon is the second son of Kent Telfer Damon (born 1942), a stockbroker, and Nancy Carlsson-Paige (born 1944), an early childhood education professor at Lesley University.
His parents divorced when he was two and he spent part of his childhood in a commune in Boston with his mother, a specialist in child education.
He is of Scottish, Finnish and English descent.
Kittens or puppies? Both, he got both.
When asked about his secret talent he said, "Erm, I don't think I have a secret talent. I think being an actor you end up being a jack of all trades, master of none. You know, you learn a lot of weird things. For instance, in the second Bourne movie there's a whole scene underwater where the car goes off into a river and we had to do this whole scene in a tank, but inside a car under the water. I didn't get certified to scuba dive. So I spent a hundred hours underwater practising, doing small tasks with my air taken away. So…bizarre talents that wouldn't translate into anything for regular life." (Buzzfeed)
According to Biography.com, Damon met a guy from two blocks down the road in Cambridge, Massachusetts when he was 10 years old. That guy was Ben Affleck and the two became best buds. They played baseball (both are die-hard Boston Red Sox fans) and the fantasy game Dungeons and Dragons as well as attending movie double-features together. They went to the same high school, where Damon developed his passion for acting. Years later, they two were still inseparable and the starred in and wrote 1997's Good Will Hunting together. Since then, they've continued to collaborate through Project Greenlight, a production company they founded together, and the actors regularly step out to support each other's work. Just couple of months ago on National Best Friends Day, Affleck gave his BFF a shoutout. The two are also famous for being one of the two most famous "bromantic couple" of Hollywood. The other famous duo is Pitt and Clooney.
He and Affleck both began acting at the age of 10 while attending Rindge & Latin prep school.
He credited his drama teacher, Gerry Speca, as an important artistic influence, though Ben Affleck, his best friend and also schoolmate, got the "biggest roles and longest speeches".
Matt used to play Dungeons & Dragons, video baseball, and short-stop in Little League, also watching Godzilla and Kung Fu double features on Saturdays and following the adventures of "The Super Friends" and "The X-Men" with Ben Affleck when they were kids.
Damon appeared in a PBS mini-series called The Voyage of the Mimi alongside Ben Affleck. The 13-episode educational program follows the crew of the Mimi exploring the ocean.
One of his first movie roles was a one-line part in Mystic Pizza (1988) starring

Julia Roberts

. Later, he starred with Roberts in

Ocean's Eleven (2001 movie)

.
He attended Cambridge Alternative School (now Graham and Parks) and then

Cambridge Rindge and Latin School

, where he was a good student.
Matt Damon is exceptionally smart, hence one of the smartest

Celebrities

in the world. He has an

Intelligence Quotient (IQ)

of 160. See this answer to know who else is smart: "

Smartest Celebrities

."
Damon is one of the most famous dropouts of

Harvard University

. He was just 12 credits short of graduating with a

BA English Literature

degree.
At Harvard, he was a resident of

Lowell House

(Room M42) and a member of the class of 1992, he left because he got a lead role in the film "

Geronimo: An American Legend

."
While at Harvard, he wrote an early treatment of the screenplay for Good Will Hunting as an exercise for an English class.
Damon was a member of the Delphic Club, one of the University's select Final Clubs.
He used to breakdance in the middle of Harvard Square for money as a teenager.
Along with his friend Ben Affleck, the two were one of the

many

extras selected to be a part in the epic 1989

Kevin Costner

film Field of Dreams.
Damon auditioned for a role in To Die For (1995), but lost to an emerging talent named,

Joaquin Phoenix

.
Auditioned for a role in

Primal Fear (1996 movie)

;

Edward Norton (actor)

got the role instead. They starred together two years later in

Rounders (1998 movie)

.
While trying to find gigs in the acting world, he lived with Ben Affleck and his brother Casey. Damon and Ben decided to write their own script which one of their best decisions! They wrote Good Will Hunting and CastleRock later bought.
Affleck's father was at one time a janitor at Harvard University, the inspiration for Will Hunting's

job

at MIT in Good Will Hunting.
Unfortunately, CastleRock did not want to give them the control they wanted over the movie. Thanks to their friend, Kevin Smith, he sold the script to Miramax and gave them the control they wanted.
Sold the script of

Good Will Hunting (1997 movie)

along with Ben to Miramax for $500,000 after trying to offer it to CastleRock for $600,000.
The film was nominated for 9 Academy Awards and won two, including Best Original Screenplay for Ben and Matt. The Award was handed to them by Harvard alumnus

Jack Lemmon

, who had also been a member of Harvard's Delphic Club.
He was chosen by

People (magazine)

as one of the "50 most beautiful people" in the world in 1998.
Was named as one of

E! Online

"25 Most Eligible Bachelors" in June, 2002.
In 1998, he formed Pearl Street Productions with Ben Affleck and Chris Moore. In March 2010, Damon and Affleck teamed up again to create Pearl Street Films, a

Warner Bros. Entertainment

based production company.
Damon dated his "Hunting" co-star

Minnie Driver

for about a year. The relationship ended in a very public and cringe-worthy way when Damon denied having a girlfriend during an interview on the

The Oprah Winfrey Show (TV series)

This was just before the Oscars and that is how she found out they had broken up. Ouch!
He dated

Winona Ryder

from December 1997 to May 2000.
Many speculated that Matt and

Penélope Cruz

began dating after co-starring in the western flick All the Pretty Horses, but the two neither confirmed nor denied the rumors. When questioned by

Oprah Winfrey

on her show, however, the rumors didn't seem so far fetch when Cruz expressed, "Matt's a very special man, he's funny and he's one of the most generous people I've met in my life. He has no defects."
Appearing on

The Oprah Winfrey Show (TV series)

on April 20, 2007, Damon promoted the organization's efforts to prevent the trees used for junk mail letters and envelopes from being chopped down. Damon stated: "For an estimated dime a day they can stop 70% of the junk mail that comes to your house. It's very simple, easy to do, great gift to give, I've actually signed up my entire family. It was a gift given to me this past holiday season and I was so impressed that I'm now on the board of the company." (See: Matt Damon – Wikipedia)
A few years later, Damon landed his breakout role in

Courage Under Fire (1996 movie)

, opposite

Denzel Washington

, in which he played a war veteran and heroin addict. He shed 40 pounds for his role.
Originally,

Tom Hanks (actor)

didn't want Damon to play Private James Ryan in

Saving Private Ryan (1998 movie)

because he thought he was too skinny. Obviously, Hanks changed his mind.
Damon and Affleck partnered (along with Chris Moore and Sean Bailey) and founded the production company LivePlanet. The duo produced the documentary series, Project Greenlight, which gave aspiring screenwriters the opportunity to produce their creative visions. The show earned three Emmy nominations for an Outstanding Reality Program. The company also produced and founded the short-lived mystery-hybrid series Push, Nevada, as well as other projects.
Between 2001 and 2003, he secretly dated Odessa Whitmire (personal assistant to Billy Bob Thornton and later Ben Affleck) for two years. The only time the two were seen hand-in-hand was at the international premieres for The Bourne Identity.
He learned to play piano for the film

The Talented Mr. Ripley (1999 movie)

.
Matt shed 30 pounds for his role in the film The Talented Mr. Ripley (1999 movie).
Matt met his wife, Luciana Barroso, while he was filming Stuck on You (2003) in Florida.
He used to smoke but quit after undergoing hypnotherapy.
To perfect a Southern accent for his role in "The Rainmaker," Damon worked as a bartender in Tennessee and even hired a customer to be his "dialect coach."
He married Luciana Barroso in the New York City Hall on December 9, 2005.
Helped launching H2O Africa, a nonprofit organization dedicated to publicize the water crisis in Africa and to raise funds to develop clean, sustainable sources of water (Oct 2006).
Played in $10,000 buyin Texas Hold 'Em tournament at the 1998 World Series of Poker in Las Vegas. Lost during first day of four.
Damon actually appeared in

The Sum of All Fears (2002 movie)

as a cameo, but his part as a waiter was later cut from the final editing.
Matt started a bowling league in Berlin while making
He is listed as one of the Top 5 of the Best Photographers in Hollywood by Autograph Collector's 14th annual survey held in May 2006.
Damon turned down the part of Bobby Mercer in "Four Brothers", as he found the script to be "ultra-violent". The part eventually went to Mark Wahlberg.
He received a star on the Hollywood Walk of Fame on July 26, 2007.
He starred in HBO's "Behind the Candelabra," in which he played Liberace's (Michael Douglas) lover and it was his first non-fiction role.
Crowned as People's "Sexiest Man Alive" in 2007, thus making him the 22nd recipient of the magazine's sexy title. Affleck has been a recipient as well.
Damon is a fan of the Boston Red Sox. After the team won the 2007 World Series, he narrated the commemorative DVD release of the event.
He gave Ben Affleck and his wife,

Jennifer Garner

, a check of an unspecified amount as the wedding gift which also turned out to be the payment for Ben of losing to the bet on who would get married first.
Dropped his role in Darren Aronofsky's

The Fighter (2010 movie)

, which originally would have reunited him with

Mark Wahlberg

. The role went to

Christian Bale (actor)

who would eventually go on to win the

Academy Award

for "Best Supporting Actor" for the role.
Affleck is among the artists who opposed the invasion of Iraq.
Both he and best friend, Ben Affleck, spent Father's Day 2007 with their wives and children together on vacation in Hawaii.
Damon and Jake Gyllenhaal were the studio's first choice for the role of Jake Sully in

Avatar (2009 movie)

, but director James Cameron chose the (back then) more unknown Sam Worthington in the lead role instead.
He has starred in 6 movies where the title contains some part of his character's name in that movie: Good Will Hunting (1997), Saving Private Ryan (1998), The Talented Mr. Ripley (1999), Gerry (2002), Spirit: Stallion of the Cimarron (2002), and The Bourne Identity (2002). Two more movies in this style – The Bourne Supremacy (2004) and The Brothers Grimm (2005).
Matt Damon Net Worth: $120 Million; According to GoBankingRates, Damon's movies "have earned more than $6.18 billion worldwide," and his net worth is $120 million. While he had roles in films like Mystic Pizza, it wasn't until Good Will Hunting that his career skyrocketed. He won the Oscar for Best Writing, Screenplay Written Directly for the Screen with Ben Affleck for Good Will Hunting. The Bourne series has helped boost his bank account. So far the series has pulled in nearly $500 million, and three Oscars, according to Collider.
Damon signed a multi-year deal to be the voice of TD Ameritrade advertisements, replacing Sam Waterston as the discount brokerage's spokesman in 2012. Damon donates all fees from the advertisements to charity.
According to The Guardian, Damon is a leftwing activist. Damon co-founded the safe-water charity Water.org. Damon has been a passionate public supporter of Barack Obama and was confident in healthcare reforms. He told The Guardian: "As disturbed as I am by a lot of the things that Obama has done and is doing, I would not have preferred a Romney presidency, that's for sure. The alternative is even more frightening."
He has three daughters with his wife Luciana Barroso; Isabella, Gia and Stella. Damon married Barroso 10 years ago, in December of 2005. According to E!, they met in 2003, she was tending bar in Miami, where he was filming a movie. They have three daughters, Isabella, Gia, and Stella, Damon has also raised Barroso's daughter from a previous marriage, Alexia. Damon told E! while promoting The Martian, "She's hung in there with me for 10 years, so she deserves a medal or something."
He has mixed feelings about marriage, but loves being married to Barroso, according to Entertainment Tonight: "I think marriage is insane…It's a crazy idea but I love being married to my wife. So I wouldn't tell anybody else about their relationship. But I'm lucky I found my wife. And I guess maybe, if there's any secret … it's to feel lucky."
Ten years after meeting, Damon and Luciana renewed their wedding vows with a lavish celebration held on the Caribbean island of St. Lucia, according to People. "It was a very family-oriented and happy celebration." Jimmy Kimmel officiated and Ben Affleck and Jennifer Garner were in attendance. "It was a beautiful and relaxing weekend for guests. Matt and Luci went all out."
---
Matt Damon and Ben Affleck
For an action star Damon is relatively short heighted. His Height is 5′ 10″ (1.78 m). Wherelse his buddy Ben Affleck is almost 6′4" (1.92 m). So there's one mass difference. Another comparison is that while both Damon and Affleck won the Oscar as Screenwriters(jointly), Affleck won it twice, (and separately) a second one for "Best picture" for his film Argo (2012 movie). Now, it's pretty much established and is accepted that Damon is clearly the better actor between the two, however, Affleck on the other hand is one of the most brilliant Film Directors (Golden Globe and BAFTA winner) and financially successful Producers working in present day Hollywood. — These ridiculous issues became the butt of the joke last year when they appeared together to promote a cause and support a charity event.
The promo for "Omaze"
Here's the link: https://youtu.be/ojZmJPr4jH
Poking fun: Ben Affleck and Matt Damon parody their bromance in new video for charity; Courtesy of Omaze;
There are tons of other hilarious clips Damon shot for Omaze. Here's three you should check out:
---
Matt Damon and Jimmy Kimmel
Damon knew Jimmy Kimmel for a long time but became closer and ultimately friends when they began their on-screen and ongoing feud extravaganza, and which produced a series of clips that nearly broke the YouTube network. Kimmel says the joke began after a particularly awful show with awful guests, so he decided to make light of the situation and act as if Damon had been bumped for said guests, which is just hilarious. Damon got his "revenge" earlier this year when he held Kimmel hostage and "took over his show for a night."
On January 24, 2013, Damon took over his show and mentioned the long-standing feud and having been bumped from years of shows. It involved celebrities who were previously involved in the "feud", including Robin Williams, Ben Affleck, and Sarah Silverman.
Clip courtesy of Jimmy Kimmel Live;
Matt Damon later revealed the whole 'Kimmel' joke origin:
"The first time I met Jimmy was when I went to do the prime-time show. For a year he'd been saying, 'My apologies to Matt Damon; we ran out of time'," Damon recalled.The actor continued: "So he came backstage, and I asked him what that was about. And he was like, 'You want to know what happened? I was doing a particularly lame show; I think my guests were a ventriloquist and a guy in a monkey suit. We were wrapping it up, and there was a smattering of applause in the audience.Kimmel said, "'I was having kind of a low moment, and I just said, "My apologies to Matt Damon; we ran out of time". My producer was right off camera and he doubled over laughing. It was just gallows humor. Nobody else got the joke. But it made us laugh, so we started doing it every night. I have no idea why I said you; it could have been anybody'."The running joke culminated in Damon eventually making a memorable appearance on Jimmy Kimmel Live.Damon said of his first Jimmy Kimmel Live interview: "So when he did a prime-time thing I went on, and the joke was that he took so long introducing me that by the time I got on, we were out of time. So we got into a fake fight."Source: Matt Damon reveals 'Kimmel' joke origin;
---
"I'm F%cking Matt Damon"
And
"I'm F%cking Ben Affleck"
— Matt Damon and 

Jimmy Kimmel Live!
On January 31, 2008, Kimmel aired a clip of his then girlfriend, comedian Sarah Silverman, singing a song entitled "I'm F%cking Matt Damon" in which Damon appeared.
Clip courtesy of Jimmy Kimmel Live;
Kimmel responded on February 24, 2008 with his music video which said that he was "F%cking Ben Affleck". It featured Affleck along with several other actors.
Another encounter, titled "The Handsome Men's Club", featured Kimmel, along with handsome actors and musicians. It's where Lenny Kravitz (actor, musician) calls Kimmel "Punk A%* B%tch!."
At the end of the skit, Kimmel had a door slammed in his face by Damon, who said that they had run out of time, followed by a sinister laugh.
Clip courtesy of Jimmy Kimmel Live;
Note: The Damon-Kimmel feud has played a big part in both of their lives so these clips deserved a spot here. And also I just wanted you folks to enjoy these hilarious clips.
---
Damon Wasn't the First Actor to Play

Jason Bourne (fictional character)

and He Almost Never Played Him
At the beginning, Brad Pitt, Russell Crowe and Sylvester Stallone were all offered the part before it fell into the hands Damon, according to IFC, and that director Doug Liman felt Damon best understood what he wanted to do with the material.

IFC says:
It was his enthusiasm for director Doug Liman's more frenetic vision that ultimately helped land him the part.On top of that, Damon wasn't even the first to play Jason Bourne. The TV movie adaptation of The Bourne Identity aired on ABC in 1988. Both versions are based on the novel of the same name by Robert Ludlum. The TV version was not exactly critically acclaimed, according to IFC, but it was a "more faithful version of Ludlum's book." Richard Chamberlain, of The Thorn Birds fame, played a Jason while "Charlie's Angel" Jaclyn Smith played love interest Marie.See: 10 Things You Didn't Know About the Bourne Movies for more on that;
---
Jason Bourne (2016) — the fifth instalment of

Bourne (creative franchise)

and Damon's latest film this year.
Though he refused to star and didn't appear on the 4th one; But after months of negotiations, he finally agreed to do the sequel and to reprises his role as the main character, former CIA assassin and psychogenic amnesiac Jason Bourne. See: Wikipedia;
The Bourne (creative franchise) has always operated as a sort of response to James Bond 007 (creative franchise). Right as Bond hit one of his lowest and silliest points in 2002's Die Another Day, The Bourne Identity arrived on the scene as a sort of corrective; serious, dark, and morally conflicted. The Bourne Supremacy and The Bourne Ultimatum followed, and so did 007, whose Casino Royale and especially Quantum of Solace aped the style and tone of Bourne.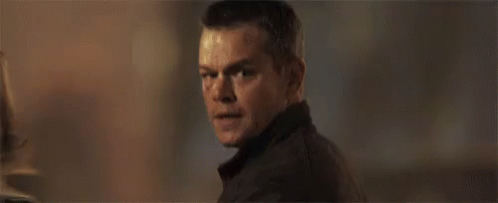 But now it's Bourne's turn to take from Bond. Perhaps that was enough. I don't know what's in Matt Damon's heart. But I do know what's on his resume, and since the first Bourne trilogy ended, what's not on his resume are a lot of hits. At an Infographic glance, made by ScreenCrush here's Matt Damon's career at the U.S. box office, his successes (and failures) in the post-Bourne era, and how those successes and failures compared to his peers during that same period:
"Matt Damon By The Numbers"
*Note: The Infographic above was published before the release of Jason Bourne (2016 movie) so the don't consider this as the latest informational graph on his career. The point of the graphic was to analyze how the Bourne series effected Damon's career.
Looking at those numbers at the botom, it's clear: Matt Damon needed a Box Office hit and Jason Bourne (2016 movie) was the guarantee, and it delivered. The film received mixed reviews but was a box office success, grossing $415 million worldwide. According to Wikipedia, Universal Studios is planning the sequel to Jason Bourne, making it the sixth Bourne film.
Since the Bourne franchise ended (or at least stopped for the first time), he's made one interesting choice after another. He's worked with great directors, including Steven Soderbergh, Clint Eastwood, Gus Van Sant, and the Coen brothers. He was a key piece of (and gave a very good supporting performance in) Kenneth Lonergan's Margaret (technically that movie sat on the shelf so long it was started before Bourne wrapped up but it didn't come out until after). He's worked in big movies and small movies. He's played starring roles and supporting ones. He's made war films and comedies and biopics and sci-fi films. He's voiced animated characters and played romantic leads.
As an artist, he's doing exactly what he should be doing.
*Note: The paragraph above is based on that Infographic, which analyses Damon's Post-Bourne career; While most of it is just an opinion of myself. This may or may not comply exactly with your personal viewpoint.
---
Lastly, an ambition he is yet to accomplish? 
"Well, I'd love to direct. I just love making movies so I want to keep doing that. But directing is really where all of the responsibility really lies…it's the toughest job without a doubt, so I'd love to try that." —Matt Damon;
---
Thank you,
Asif Ahsan Khan
---
Note: Nothing is out of your reach here. Everything mentioned in this article can be found on these links below. (I've simply paraphrased).
External Links:
Matt Damon – Wikipedia; Some of the Quotes can be found on his Wikipedia page.
Image Credit: Mostly mine (royalty free), otherwise attribution given.