A Google search of 'Greatest Movie Villains' will bring many familiar faces: Hannibal Lecter, Darth Vader, Alex DeLarge, Anton Chigurh and, of course, Heath Ledger's turn as the Joker – a character that has become omnipresent. 
Furthermore, the true nature of Cinema villains  has become perhaps the worst-kept secret on the Internet (you have to go all the way to, erm, the top of the IMDB cast list to find out what the trailers have painstakingly hidden), yet don't stress — you'll not have it ruined here. Suffice it to state that the film's opponent is savagely clever, physically merciless, and hellbent on vengeance. As it is the case, a villain is an extraordinary figure to motion picture scalawag. Filtering through the scores of notable film bad guys and ladies uncovers that villainy comes in all shapes, sizes, and levels of force; positioning them against each other is a difficult request, yet I was eager to give it a shot or two into this tall order.
The villainy of these iconic performances is without question extraordinary, but there are many more nasty characters in the annals of cinema history that are seldom if ever considered in the lists by various magazines, websites and institutes. Some are a pleasure to hate, whilst others cause the proverbial red mist to descend in righteous indignation.
Villain – Characters that movie goers love to hate – and hate to love. Villains are characters whose wickedness of mind, selfishness of character and will to power are sometimes masked by beauty and nobility. Others rage unmasked. Daring the worst to gain the most, the movie villains we remember best can be horrifically evil, merely sleazy or grandiosely funny, but are usually complex, moving and tragic. For honoring purposes defined a "villain" as a single character, a duo or a team of characters. I've tried to include most of those characters whose legacies are beyond phenomenal. Because every other list you'll find anywhere out there will either have Heath Ledger's "The Joker," or Anthony Hopkins' "Dr. Hannibal Lecter" ranked at the top of the ladder as the greatest villain of all time while the rest of the list would probably be wrapped up in bunch of crap they can possibly gather without any hassle.
Yeah, almost every single one of them. So, this is "That Other List of 'Greatest Movie Villains' of all Time!" which didn't forget to include the bats*it crazy villains who deserved their rightful recognition. This is an alternative list of great movie villains who are basically underrated. Means, this list contains names that mostly didn't make it to the many many official listings or publications (both critic and fan-made) and are most likely to never get featured  in the near future. So, in no particular order check out how my list is different than the rest (almost).
---
"A Distinctive List of Cinema's Greatest Villains"
♦ Since Every Other Lists of 'Greatest Movie Villains of all Time' Out There on the Internet, Surprisingly, Forgot to Include Most of These Following Badasses…
♦ (Caution: This page is pretty long) ♦
---
Max Cady (Robert De Niro) – Cape Fear (1991)
"Come out, come out, wherever you are!" — Those soul grinching words uttered by Robert De Niro's Max Cady in Martin Scorsese's 1991 Thriller Classic, "Cape Fear" gives a lot of us, the chills, even today. But while we're at it, let's think back to the original Cape Fear from 1962 first, with silver screen greats Gregory Peck and Robert Mitchum as the leads. The movie was the pinnacle of suspense in the early 60s' (except Alfred Hitchcock's Psycho) with Mitchum's Max Cady being the epitome of creepy. His sole intent was to terrorize the family of his former lawyer Sam Bowden, and succeeding, until Bowden pulls a gun and ends the reign of terror without further conflict. Bowden lives happily ever after, Cady goes back to prison, the end.
Territory like that was only beginning to be approached in the early 60s', and viewers were legitimately disturbed by the film's content; in the era of creature-features and sock hops, the scariest monster was the human one. However, come 1991, the true definition of the human monster was returned to the big screen when Martin Scorsese brought back Cape Fear with Nick Nolte as Bowden and Robert De Niro as Cady. The remake took the extra steps that the original couldn't, and as a result, the film was much grittier and darker as De Niro's Cady stole the show with a very terrifying interpretation.
"I am like God, and God like me. I am as large as God, He is as small as I. He cannot above me, nor I beneath Him be." – Max Cady.
De Niro's Cady was the perfect villainous specimen. He was lean and muscled from his time in prison, heavily tattooed, eloquently spoken, and (go figure) his heavy Southern accent was both charming and unsettling. But the most unsettling aspect was his intensity. Cady came out of prison a hardened convict bent on revenge. He wanted recompense for the lost years that he received courtesy of Bowden and he wasn't afraid to cross that line.
That's what defines De Niro's Cady as a villain. He wasn't above invading the Bowdens. He invaded them personally, emotionally, mentally, and literally. He invaded their sense of peace, their security, their privacy, and even went as far as seducing Sam's teenage daughter. He raped their sense of normalcy and forever changed their lives. He was a plague who made your skin crawl just by looking at him.
The above clip is from the film's climactic battle on board the Bowden family's houseboat. As made obvious, De Niro's Cady is nothing short of delightfully deranged. Of course, as made obvious in the film, Cady is also an idealist, and when an individual is on a warpath in the name of those ideals others would be hard pressed convincing them that what they are doing isn't right.
Of course, that doesn't mean we didn't enjoy De Niro's Cady. His performance made the film. Only De Niro could properly perform a character as psychotic as Cady. His performance was so in depth that he even playfully tormented Scorsese while in character. De Niro was committed to the role, going as far as having a dentist alter his teeth for the role as well as study the "Southern dialect" by recording a bunch of Southern people talking into a mic. Somehow, someway, everything in the South only adds an element of terror in films.
With that being said, smart, ripped, tatted, Southern, and just outright psychotic, De Niro's Cady is the epitome of a horror villain. He was nominated for an Oscar for his role as Cady, and that's wasn't for nothing.
Backstory
Long before any of the other participants were sure it was a good idea, Robert De Niro took a strong interest in remaking the classic 1962 thriller Cape Fear. Significant differences are seen between the way in which Cady is portrayed in the original film of 62′ and the remake in 91′. Mitchum's characterization is that of a sleazy, degenerate con artist. De Niro's is of a homicidal sociopath, who viciously attacks everything and everyone Bowden holds dear (he even beats and rapes one of Bowden's colleagues). The remake also sheds some light on Cady's background in a rural Pentecostal family who does snake handling and drank strychnine to achieve religious ecstasy. Mitchum's portrayal of Cady ranks number 28 on the American Film Institute's list of the top 50 movie villains of all time. (see at the botom of this page).
"I liked the original Cape Fear," De Niro said. "It was fun to watch, and it made an impression on me as a kid. It was a little naive in some ways and simplistic, but there was something about it. I had this image of Robert Mitchum like a Charles Manson, someone who does a mind trip and is not just a physical threat. That's why I was happy I was doing Cape Fear with Marty. I felt he'd have an understanding of the complexity."

Martin Scorsese took the role of director at De Niro's urging. "I hadn't worked with Bobby on a role that big for a long time, so that was exciting," said Scorsese. "He really wanted to play this character, and when he's as fully dedicated to a part as he was to this one, you just know that something great might happen."
Back in 1962, J. Lee Thompson made a cinematic adaptation of John D. MacDonald's novel The Executioners. Written by James R. Webb, Cape Fear starred Gregory Peck, Robert Mitchum and Polly Bergen, with its dark story of a released prisoner eager to exact his revenge on the lawyer he finds responsible for his conviction Cape Fear was a critical success. Almost three decades later, Martin Scorsese was approached by Steven Spielberg and agreed to film a remake. Hardly would a man of Scorsese's reputation and talent agree to such a job if he didn't feel he had something new and different to say on the subject. Scorsese, with abundant help from Wesley Strick's excellent screenplay, wanted to add some depth to the rather simplistic, black-and-white depiction of vigilante violence of the original, he chose to make the story more complex, to transform the characters into full-blooded human beings with flaws, guilt and inner conflicts.
Did You Know? The research materials from the Robert De Niro collection reveal the extent to which De Niro was involved in the development of the Pentecostal past of and biblical influence on Cady. To prepare for the role, De Niro consulted multiple Bibles, a concordance, Bible study guides, Stephen Mitchell's translation of the Book of Job, and books and articles about Pentecostalism and Pentecostal worship.
Reunited with Robert De Niro, who delivered one of the most inspiring portrayals of psychopaths with a grain of Travis Bickle, the legendary filmmaker succeeded in accomplishing what he set out to do. His Cape Fear is haunting, disturbing, psychologically nuanced. His Cape Fear is an intimate and precise exploration of emotional turmoil of the seemingly calm and safe family at the heart of the film. His Cape Fear, thanks to wonderfully dedicated effort of De Niro, Nick Nolte, Jessica Lange and Juliette Lewis, is one of the best thrillers of the last decade of the 20th century. His Cape Fear, furthermore, delivers an unselfish nod to the original that inspired it: as Scorsese cast Mitchum, Peck and Martin Balsam in small roles, the new Cape Fear paid its due respect to J. Lee Thompson's effort that gave birth to it.
The film was critically acclaimed and received Academy Award and Golden Globe nominations for Best Actor (De Niro) and Best Supporting Actress (Lewis).
De Niro took his fitness program to another level when he prepared for his role in Cape Fear. To prepare for the convict role, De Niro turned to the help of personal trainer Dan Harvey who put together the extremely high repetition workouts that used exercises that mimicked what a real prisoner would have access to in jail. He plummeted his body fat percentage to a scant four percent through hundreds of body weight repetitions. After the fitness preparations for the Cape Fear movie concluded, trainer Harvey was amazed at the actor's extreme focus all throughout the training program. De Niro's program involved all bodyweight exercises just as a real prisoner would most likely perform while in jail. Body weight exercises like dips, chin-ups, pull-ups, and push-ups were used in addition to performing 600 crunches a day which sculpted the actor's abdominals and gave him a total body muscle building workout. Training days were split into pushing and pulling days. This meant one day was designated for pushing movements like push-ups, dips, and squats and the other training day set aside for pulling exercises like pull-ups and chin-ups. At the end of the day, De Niro's repetition range lead into the hundreds, which cut his body for the leading convict role. Given the intense nature of the body weight program, I find it mighty impressive for a 48-year old movie star. 
By the time the movie Cape Fear hit the box offices and befor it grossed $200 million worldwide, Robert De Niro showed people everywhere that it doesn't matter how old you are to get to an amazing four percent body fat. Through intense focus, preparation, and hard work anyone can achieve huge body transformations at any point in life. Who could possibly be better to set an example for that other than the greatest actor of this generation De Niro. His "Max Cady" was a  terrifying villain and deserves to be included in every list of "Iconic Movie Villains." 
---
Louis Bloom (Jake Gyllenhaal) – Nightcrawler (2014)
"Nightcrawler(s)" is a term for freelance cameramen, seen here roaming LA after dark in search of lurid stories to sell to TV: as the dictum goes: "If it bleeds, it leads."
Jake Gyllenhaal plays Lou Bloom, a venturesome beginner who demonstrates appallingly great at the exchange, being completely committed and hyper-composed, with the moral second thoughts of a moray eel.
The experiences about the ethical opportunity of TV news are not really novel, yet what gives Nightcrawler its class is Gyllenhaal's alarming, now and then coldly comic execution as the beguiled screw-up, always vacantly gushing certifiable administration manual talk. Yet, underneath the enthusiastic beaver brilliance is a non domesticated soul, showed up – oil slicked hair, the thinness of a sleep deprived person austere and a glare that appears to be painted on to his eyelids, as though Lou is a recording gadget for all time exchanged on.
There's solid support from Riz Ahmed as Lou's hapless enroll, however the genuine shock is a show-taking Rene Russo as Nina, a hard-nibbled news manager on the falling flat station that offers Lou his reprieve. In an uncommon scene, Lou welcomes her to supper, consults for better terms and, as a major issue, demands this extensively more established lady laying down with him; the enthusiastic (and oedipal) fencing between the two is awfully convincing.
Mental extravagance aside, Nightcrawler works adequately as an incline thriller, with the city night given a cool, metallic sheen by cinematographer Robert Elswit. It may not be pivotal, but rather Nightcrawler emerges as an appreciated peculiarity today, reviewing the kind of harsh dramatizations once made by executives, for example, Michael Mann, Sidney Lumet or James B Harris. Gilroy marginally blows it with a group satisfying climactic pursue, yet this is an appropriately grown-up excitement; and it contains the most critical new beast in sight, being the most miserably human.
Louis Bloom is pretty much pure evil. Worse than that, he is the kind of pure evil that you might expect to find living right next door to you. Though ultimately just a man, Bloom has long abandoned any semblance of humanity in favor of pursuing any venture that will benefit him and him alone.This philosophy eventually attracts Bloom to the world of paparazzi-style news recording.
The worst part is that "Nightcrawler" leads us to believe that Bloom will ultimately get his in the end, but that doesn't prove to be the case. At all. Instead, we come to find that Bloom will not only avoid prosecution for his various crimes, but that he's found himself a very profitable place in the world of violent news reporting. Things could not have gone better for this madman.
---
Drexl Spivey (Gary Oldman) – True Romance (1993)
An actor should be able to disappear into whatever role he or she is given. That's gospel. Gary Oldman wasn't exactly the "Icon" by the time Tony Scott's True Romance hit theaters, but he'd already left his mark in several meaty roles, most notably as Lee Harvey Oswald in Oliver Stone's JFK, Sid Vicious in Alex Cox's Sid and Nancy and, in a complete showstopper of a performance, as the short-fused Jackie Flannery in Phil Joanou's seminal Irish-gangster drama, State of Grace. Each one of those films had Oldman disappear into his assigned role. He's been labeled as a chameleon many times over, and he's one of the few actors who can actually live up to that particular tag. Oldman is nearly unrecognizable in many of the films he's been in.
But it's his portrayal of Drexl Spivey in the Tony Scott-helmed, Quentin Tarantino-scriped True Romance that stands as one of the most astonishing displays of an actor completely submerging into a role ever committed to film.
His screen time is short, but it's an absolutely scene-stealer of a performance if there ever was one.  When Drexl's name is first mentioned in True Romance, it's thrown out in casual conversation, and it's not until he shows up on screen that you get a true sense of what a menace he is. You don't think much of the guy at first, other than that he's a white guy trying to play it black with ratty dreadlocks and a mug that looks like it was introduced to the business end of a broken bottle. But that changes once Drexl, with a playful demeanor and a toothy smirk, lays waste to his business partners in order to get his hands on a suitcase of cocaine destined to play an important role in the burgeoning romance of Clarence Worley (Christian Slater's comic-book-store clerk) and Alabama (Patricia Arquette's hooker with a heart of gold). It's an incredibly violent exchange and perfectly sets the mood for an inevitable confrontation between Drexl and Clarence.
And the great thing is, once that confrontation comes, and even though the viewer knows that Clarence has dropped himself into a snake pit, Clarence himself doesn't understand just how much danger he's actually put himself in by confronting Alabama's former pimp. The exchange between the two is an exercise in tense Tarantino dialogue, rife with pop-culture references ranging from The Mack to Charlie Motherfuckin' Bronson. Slater and Oldman play off of each other incredibly well. You can almost feel the adrenaline coming off of the screen as each one tries to shake up the other with thinly veiled threats. There's a gleam in Oldman's eyes that speaks volumes as to how much fun he's having with the role, and that playfulness somehow makes Drexl all the more terrifying.
There's been no shortage of memorable characters throughout Gary Oldman's three-decade-long career. He seamlessly transforms into nearly any part he puts himself into, whether it be Commissioner Gordon in The Dark Knight trilogy, his Oscar-nominated role in Tinker Tailor Soldier Spy, or one of the many villains he's played throughout the years, such as Stansfield from Leon: The Professional.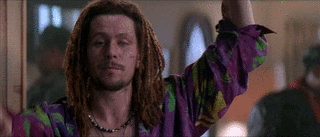 Oldman has a way of picking the unique characters that are outsiders and embodying every minute detail of their personality. Out of all the roles he's played, one of his most memorable — and certainly my favorite — is that of the brutal Drexl Spivey from True Romance. Dammit, is Drexl ever fun to watch.
The character couldn't be more opposite from Oldman in every way possible: A white Jamaican pimp with a wonky eye and twisted demeanor that could turn violent at any second. Drexl isn't even onscreen for 10 minutes in Quentin Tarantino and Tony Scott's bloody romantic tale, but he stands out as the most unforgettable character in a movie filled with them. It's been 24 years since Drexl deservedly had his family jewels blown off, and in honor of Gary Oldman's dedication to acting — I thought it only appropriate to look back at this most viciously satisfying character.
Drexl wouldn't say 'titties' . . . ?!
Selling Oldman on True Romance was rather easy as he recalled from a 2008 interview, Tony Scott merely glossed over the plot and told the actor he'd be playing a white pimp who thinks he's black. "That was all I needed to hear," Oldman said.
To get Drexl's mannerisms and way of speaking the way he wanted, Oldman drew upon an unlikely source. While shooting the movie, Romeo is Bleeding, the actor was in his trailer in Brooklyn when he overheard some teenagers outside talking and joking around, the actor pulled one of the kids aside and asked him look over his lines and what did and didn't work. Particularly, how Drexl would refer to a woman's breasts:
"I showed this kid my lines and said, 'Does this seem authentic?' He changed some words. He said, 'That don't fly. Drexl wouldn't say 'titties'; he'd say 'breasteses.'"
Aside from Drexl's Jamaican accent and unfiltered penchant for violence, Oldman set out to make the white pimp's physical appearance incredibly unique. Dreadlocks, a leather Kangol cap, cheetah print jacket, gold teeth — a real-life Drexl should really have considered dressing a bit more inconspicuous if he was going to be involved in illegal activity. A police sketch artist would have no problem drawing up such a distinctive individual.
Oldman developed Drexl's colorful appearance primarily because he knew he had a such a short amount of screen-time and wanted to make a statement with the character. After getting the OK from Tony Scott, the actor set out to piece together Drexl's look borrowing from previous films he'd worked on:
"I had to kind of put him together, I had to work on him while I was doing something else. Because there just wasn't the time to meet with Tony (Scott). I wrote him a letter, sent him a note, saying, 'I would like dreadlocks. What do you think?' And he said, 'Yeah, great.' So I knew Stuart (Artingstall), who had been the wigmaker on Dracula, so he made me that wig in about 48 hours. And I went to a dentist – I was working here in New York – who made the gold teeth, and I got the eye from the prop department at the…well, it was one of the eyes I wore for Dracula! And I put 'em all together and walked on the set and hoped Tony liked it."
I don't know if this is standard practice for how Gary Oldman works, but while shooting True Romance he would bring his 70-year-old mother to the set each day to make sure he was nailing the character correctly. When it came time for Drexl to meet his demise at the hands of Clarence, Oldman wore a metal cup even thought the gun of course was loaded with blanks. As Oldman recalled, his mother approved of the scene, "She said, 'Yeah, I thought that was really good.'"
At one time the actor had expressed interest in doing a spin-off of True Romance centered around Drexl's development on how he came to be an associate of Blue Lou Boyle. As much fun as it would be to see some backstory on how Drexl's eye got so messed up, Oldman is likely past the point of being able to convincingly play such a young character, and we'll just have to be satisfied with Drexl's seven minutes of cinematic glory.
---
Vincent (Tom Cruise) – Collateral (2004)
First off, let me remind you: Tom Cruise is the "movie star." If you didn't know that already, then, hey, welcome to the planet earth (an apology in advance for most of my nonsense). A staple of cheesy '80s movies (Riskey Business, Cocktail, Top Gun, All the Right Moves, etc.) he escaped into the next two decades to front some very fine and profitable motion pictures and as of 2017, become one of, if not THE, highest paid actor in Hollywood (he is actually but the media won't claim it because he told them not to). But merely being paid well for acting doesn't mean you can actually act (but let's not point fingers shall we?). With the impending release of the Mummy, that same action movie with a different twist, Collateral is one of my favorite Tom Cruise movies and where he demonstrated his best work being on the opposite side of the law… the main antagonist. AND it's worth every f*cking penny!
Collateral is hands down Tom Cruise's most nuanced performance of the modern era, or any era of his career for that matter. Playing off of mostly Jamie Foxx during the entire run of the film, Cruise plays the role of Vincent. He's just a guy who's in Los Angeles for a couple of days, with some time to kill. Actually, he has some people to kill as well, and he forces Foxx's character of Max to ferry him around from murder scene to murder scene in order to finish the jobs at hand. Naturally, Max puts up a fight and tries to escape with some rather crafty and unconventional means.
However, Vincent wouldn't be very good at his job if he wasn't able to improvise and adapt to his environment, which means Max is going to have to put up a huge fight to escape his supposed fate.
The reason that Vincent is Tom Cruise's best — and probably most important — performance of his career is that it's one of the rare moments where he plays someone we're not supposed to root for. Sure, he previously got to flex his villain muscles in Interview With The Vampire, but Lestat has more of a comedic edge to him that makes the character more enjoyable when he murders people in cold blood.
Jamie Foxx's Character, Max is a decent guy, a taxi driver who is sort of in love with one of his passengers. He knows where she live since he's the one who carried her around in that taxi a coupe of times but can't seem to build up the courage to ask her out. Cruse's character, Vincent, on the other hand, is an existential sociopath. He wonders what our place on this Earth is all about, and so far the answers he's come up with aren't strong enough for him to stop killing people.
The man is goal focused to the end, even taking some hits as he chases Max down during the film's action-packed finale. And just when you think he's about to close in for the kill, he's gunned down by sheer, dumb, cosmic luck. In that final moment, he realizes that it's all for nothing. No one will notice he was there, because it was what he'd always aimed for. His goal was always to leave no trace behind, and he succeeds admirably.
While he's the film's villain, and a cold-hearted killer; Tom Cruise manages to have some of that mischievous fun that he had with Lestat so many years ago.
His performance as Vincent walks a tightrope of calm logic, fierce rage, and grinning idiot. Yet somehow, he gets you to feel just a little sorry for him at the end, as he's slumped over on that train – which calls back to the story told earlier in the film. I hope Cruise and director Michael Mann get to work together again at some point in the future, as this film brought out some of the best qualities of why he still remains an acting force of nature. If you've never seen Collateral, or haven't experienced it in a good long while, I highly recommend you do so. The film is as fresh today as it was back in 2004.
Tom Cruise type found himself largely unrecognized for this performance while his co-star Jamie Foxx was nominated for several awards for his performance as the average man cabbie max who has the unfortunate luck of picking up Cruise's Vincent.
Of course Foxx was nominated, or even won, everywhere for supporting actor so one can blame more than the Academy for swallowing the lie that Foxx is anything but lead in the film. The film is about Max and if one were forced to name out of the two main actors who was more supporting the answer would have to be Tom Cruise who has far less screen time, and when the film diverts its attention it always follows Foxx not Cruise.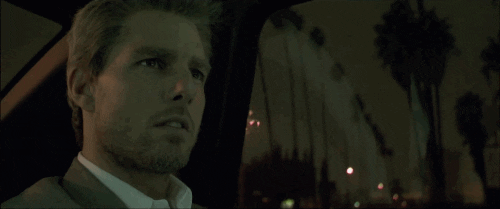 In fact other than the opening scene where we see Vincent receive his dossier the film never takes his perspective or least never takes it over Foxx's. Whenever Vincent goes inside to do something it stays out in the car with Max it does not follow Vincent. I do think the film is about both men and their relationship making Cruise lead as well, but if someone should have been nominated for Best Supporting Actor for the film it should have been Cruise.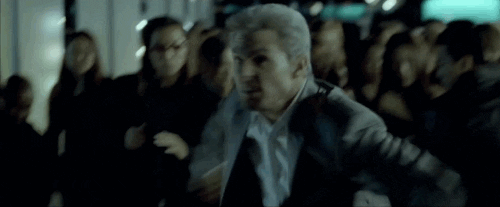 See how mad he is?
---
Ray (Ray Winstone) – Nil by Mouth (1997)
Gary Oldman's Nil by Mouth is the most brutal British kitchen sink drama ever made. Set against the backdrop of a dismal Brutalist housing estate in South London, it depicts the cyclical nature of an extended family's poverty, drug addiction and domestic violence. Watch the trailer here.
At the centre of this family is Ray, an extremely aggressive alcoholic who lives for drinking, drug abuse, petty crime and intimidating those around him. The narrative essentially charts the causes and consequences of his latest savage outburst.
Of those Ray accosts and abuses, no one suffers more than his wife Valerie (Kathy Burke), who hovers in the background obediently while Ray and his friend Mark loutishly reminisce about their sleazy antics.
Valerie isn't afforded such nostalgia because she's barely allowed to go out. It seems Ray approves of only two people, a Scot named Gus and his partner Paula. However, when Ray 'catches' Val having an entirely innocent game of pool with a male friend of Gus and Paula's, we see the full extent of Ray's ferocious jealousy.
Later that evening, he wakes Val to ask "Who's the c*nt you was playing pool wiv'" before brutally attacking her in one of the most harrowing depictions of domestic violence one would ever want to see.
Here's a very short clip and even though it's bad in quality, you'll still get the idea what I'm talking about. Watch this clip below:
Despite this, Ray is not an entirely unsympathetic character. Winstone bares his character's soul in a poignant monologue towards the film's end, revealing that he is the product of a harsh and dysfunctional home that was led by his similarly obnoxious, putrid father. Alas, he seems too selfish to realise that he has become that tyrannical monster.
---
Dwight Hansen (Robert De Niro) – This Boy's Life (1993)
Dwight Hansen is a domestic dictator much like Ray, but he may be even more unlikeable despite being less violent. This is because Dwight gives the impression that he's a square, old-fashioned gent whereas Ray is unashamedly brutal-ish.
However, beneath the corny jokes of Dwight's charm offensive is a very fragile man indeed. He is a competitive bully with severe control issues and a volatile temper that he swiftly ceases to disguise as he struggles to maintain his insufferable machismo. When his guard is lowered and his spirits are high, Dwight bores his family at the dinner table with embellished stories of his pugilistic successes – this is as affable as he gets.
The bulk of the story, which was adapted from Tobias Wolff's memoir, concerns how Dwight reacts to his stepson Toby's (Leonardo DiCaprio) adolescence. Naturally, he is threatened by it, so he deals with it the only way he knows how by employing petty, draconian authority that descends into outright physical abuse, whether it's withholding and later spending his paper round money or knocking him about when 'teaching' him how to punch.
As the film progresses and the shoulder-be-chipped Dwight feels his grasp loosen on Toby and his mother Caroline (Ellen Barkin), he becomes positively loathsome. It is an underrated performance by De Niro that, regrettably, will resonate with far too many people.
De Niro's "Dwight Hansen" echos as a chilling reminder of the just how boundless the human ego can be. Then again, there are plenty of good reasons to count Dwight among De Niro's most despicable, depraved, grotesque, and evil villains. The story of this everyman and the way he poisons the lives of his new wife and her son Toby (the young star-in-the-making, hand picked by De Niro himself, Leonardo DiCaprio), could be perceived low-scale compared to his more archetypal roles, and from another planet altogether than his showy turn as "Max Cady" from two years prior. But it's precisely because of this that Dwight, a seemingly reasonable blue-collar worker who modestly "knows a thing or two about a thing or two," is De Niro at his most emotively evil-incarnate, somehow even more toxic because he's also so infinitely pathetic.
"This Boy's Life" pulsates with the gritty realism of a domestic-drama-turned-thriller as it slowly lifts the hood to reveal the dirt under Dwight's meek exterior; a monster who psychologically and physically abuses his wife and children. For someone with such an intimidating reputation for playing larger-than-life characters, Dwight Hansen is De Niro's essential example of how to approach lower-than-lowlife regular people.
---
Angel Eyes (Lee Van Cleef) – The Good, The Bad, and The Ugly (1966)
Arguably the best western of all time needed to have an appropriate villain, and he was found in the character of Angel Eyes, a cruel and ruthless killer who always finishes the job he's paid for. Interested only in finding out the location of the infamous loot, he beats, tortures and kills different people, having no regrets.
Lee Van Cleef as "The Bad", a ruthless, unfeeling, and let me reiterate this one more time, he's a sociopathic mercenary who always finishes a job he is paid for (which is usually finding—and killing—people). When Blondie and Tuco are captured while posing as Confederate soldiers, Angel Eyes is the Union sergeant who interrogates and has Tuco tortured, eventually learning the name of the cemetery where the gold is buried, but not the name on the tombstone. Angel Eyes forms a fleeting partnership with Blondie, but Tuco and Blondie turn on Angel Eyes when they get their chance. Originally, Leone wanted Enrico Maria Salerno (who had dubbed Eastwood's voice for the Italian versions of the Dollars Trilogy films) or Charles Bronson to play Angel Eyes, but the latter was already committed to playing in The Dirty Dozen (1967). Leone thought about working with Lee Van Cleef again: "I said to myself that Van Cleef had first played a romantic character in For a Few Dollars More. The idea of getting him to play a character who was the opposite of that began to appeal to me." In the original working script, Angel Eyes was named "Banjo", but is referred to as "Sentenza" (meaning "Sentence" or "Judgement") in the Italian version. Eastwood came up with the name Angel Eyes on the set, for his gaunt appearance and expert marksmanship.
Lee van Cleef successfully switches from the good guy role in the previous movie from the trilogy, to the astonishingly evil character in this one – cold, calculated and unflinchingly sadistic murderer. He completes the trio as a man of few words and with no moral scruples. A truly fantastic role for the actor who had had the experience of playing villains already, but never was as cold and cunning, but at the same time, strangely charismatic, as here. He was simply born to play this role.
---
Joan Crawford  (Faye Dunaway) – Mommie Dearest (1981)
"No more wire hangers!" It's hard to forget Faye Dunaway's intense portrayal of screen legend Joan Crawford in this adaptation of adopted daughter Christina Crawford's revealing memoir. Crawford famously had her children refer to her as "Mommie Dearest," a loving title that didn't quite suit her parenting style, if Christina's claims are to be believed. Joan was a troubled actress, fighting to remain relevant as she aged and adopting children to make herself more appealing. She wasn't naturally maternal, and distrusted all women — even her own daughter — so any perceived slight or misbehavior was met with harsh words and cruel punishments. Dunaway relishes her role as Crawford, turning the actress from your typical mean mom into something much more monstrous and horrifying.
I still have no idea if the real Joan Crawford was as much of a monster as the 1981 biopic film Mommie Dearest would suggest (actually, I read the book…she was that bad), but Faye Dunaway sunk her teeth into the role of Hollywood golden era acting legend Joan Crawford, who at the height of her fame decided to adopt two cherubic orphans "for a little extra publicity" and then proceeded to make their lives a living hell. Dunaway's performance is part kabuki theater, part campy horror flick, and entirely something you'll never forget. Dunaway was coming off over a decade's worth of critically praised performances and an Oscar win when she made this, and she blames the film's reception as a camptastic schlock fest for ruining her career. (According to urban legend, Dunaway also claims to be haunted by the ghost of the real Joan Crawford for ruining her reputation. I desperately want to see someone tackle a movie based on that scenario.) For thirty plus years now, gay men the world over have become grateful for the endless amount of quotes Mommie Dearest has provided us, and for everyone else, the movie can serve as reminder that your mom isn't really that bad.
---
Hans Landa (Christoph Waltz) – Inglourious  Basterds (2009)
The Best Supporting Actor Oscar is a proof that Quentin Tarantino was right to search for a German-speaking actor instead of Leonardo DiCaprio to play "The Jew Hunter", Hans Landa. Christoph Waltz was magnificent from the first scene in which he interrogates a French farmer who hides a Jewish family, and he stays in the viewer's mind till the very end. He is an extremely intelligent, persistent and cruel character, but when necessary, he can also be a charming sweet-talker.
The mixture of his fluency in many languages, methodical approach in locating Jews, and a sarcastic sense of humor, makes him really interesting to watch, and you can't wait to see what he will be up to next. Waltz expressed Landa's sociopathic nature with great sincerity and showed him as an apolitical opportunist who is a member of Nazi party strictly out of interest, chasing a better career and more power for himself.
At the end, there is a beautiful transformation when Landa is finally captured and loses all his previous arrogance in a second. In QT's own words, Waltz's performance is what made this movie possible.
---
Mallory Knox (Juliette Lewis) – Natural Born Killers (1994)
Co-written by Quentin Tarantino, Oliver Stone's satirical crime film Natural Born Killers follows Mickey (Woody Harrelson) and Mallory Knox (Juliette Lewis), a pair of psychopathic lovers, as they murder people all over USA. Throughout their killing spree, they're hunted by the sadistic police detective Jack Scagnetti (Tom Sizemore) and glorified by sensationalist journalists like Wayne Gale (Robert Downey Jr).
While Mickey is absurdly competent cold-hearted killer, Mallory is downright scary in her anger. When not firing guns into dead bodies, she's physically over-powering her opponents through the sheer power of crazy. Oliver Stone set out to make a provocative movie and he succeeded beyond all expectations: not only is Natural Born Killers often cited today as one of the most controversial movies ever made, but it has also allegedly inspired a whole series of real-life killings since the mid-1990s.
---
Elle Driver (Daryl Hannah) – Kill Bill: Vol. 1 (2003) & Vol. 2 (2004)

Elle Driver was a member of the Deadly Viper Assassination Squad, known by her code-name California Mountain Snake, and by her missing right eye, which was covered by an eyepatch. Elle had some kind of sexual relationship with Bill, much like Beatrix, who was Bill's girlfriend and the mother of his daughter. After a protracted fight in Budd's trailer, Elle was defeated by Beatrix, who snatched out her other eye, rendering her completely blind.
"It's the first villain that I've played in a movie that has absolutely no vulnerability and no innocence, nothing whatsoever that is likeable about her, other than she's so bad. All the other Deadly Vipers have some empathetic quality: O-Ren Ishii has this horrible past, [Vernita Green] just wants to be a mom, the Bride has been abused, but my character is just bad all the way through, there's nothing to like about her, and you're going to hate her so much." –Daryl Hannah (on Elle Driver)
Elle originally worked for Interpol and was sent on an assignment to apprehend Bill. Upon tracking him down, she soon fell in love with him despite his dating Beatrix. He offered her a job as an elite assassin and she accepted, just so she could be around him.
Elle's fate remains unknown, the film's end credits depict the names of the Deadly Viper assassination Squad as being crossed off a hit list, with the exception of Elle's, which displays a question mark.
---
Walter Finch (Robin Williams) – Insomnia (2002)
Insomnia is directed by Christopher Nolan and was released in the year 2002. Walter Finch is the antagonist of the movie and is portrayed by Robin Williams. He is a really calm and cool villain who is always one step ahead of the hero, Will Domer (Al Pacino). Don't trust him by his innocent looks as he is capable of doing much harm that you can't even imagine. Even though Insomnia remains as one of the most underrated works of Nolan till date, Walter Finch is definitely one of the finest villains ever in the movies.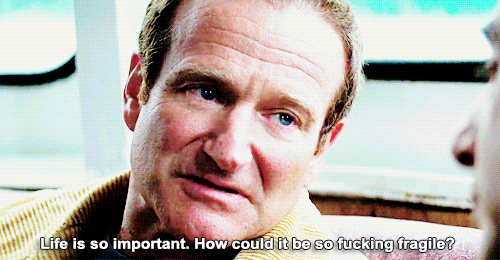 Instead of darkness and shadow, the movie takes place in unforgiving, continuous brightness, the 24-hour daylight of a small town in Alaska in the summer months, where a teenage girl has been discovered beaten to death, her body showing signs of ritual killing. A grizzled LA detective is brought in to show the local cops how to take down a villain this scary – a detective who has accepted this godforsaken assignment because he is in trouble with the Internal Affairs department back in the big city. His investigation goes horrifically wrong and his bad conscience, his festering awareness of career mortality and his screwed-up circadian rhythms mean that he is driven slowly mad with sleep deprivation: a kind of fatal familial insomnia of the soul.
Only those people who don't suffer from insomnia have the luxury of thinking it's a disturbing metaphor – when the simple physical condition itself is what is truly disturbing. So Al Pacino is inspired casting as the haggard detective Will Dormer, the policeman with the world's most ironic name. Nolan contrives a weirdly dream-like chase between the two men across logs on a freezing river, and also sets up some terrific, Michael Mann-style head-to-head clashes as Dormer tells the creepy writer exactly what he thinks of him. "You have no motivation," snarls Pacino, "you are about as complicated as a blocked toilet is to a plumber."
---
Ma-Ma (Lena Headey) – Dredd (2012)
Based on a comic strip published in the British cult magazine 2000 AD, Dredd takes place in a grim post-apocalyptic future in which North America is an irradiated wasteland. Almost billion people live in poverty behind the walls of Mega-City One, where crime is so rampant that the order has to be maintained by "Judges," police officers given the power to freely judge and execute the criminals on the spot.
Madeline Madrigal, alias Ma-Ma (Lena Headey), is a product of this diseased society. A former prostitute, she's a psychotic drug lord ruling over a criminal fiefdom set within a gigantic 200-storey slum tower. Ma-Ma's preferred method of execution is both cruel and creative: she exposes her victims to a drug called Slo-Mo that drastically slows down their perception. Then, she gets them thrown from the top of the building, giving them plenty of relative time to contemplate their upcoming death. Now, that's just sadistic!
---
Lee Woo-Jin (Yoo Ji-tae)– Oldboy (2003)
The young actor Yi-Tae Yu handles the complex role of an avenger magnificently. The reason of his revenge may seem trivial to some viewers, but he takes it very seriously, and is prepared to go to unimaginable extremes in order to carry it out properly. He is probably one of the most patient villains you will ever see, which makes him even more menacing. On the other hand, he is far from an impersonal, cold-blooded and unfeeling killer, because his anger and vindictiveness originate from a personal tragedy.
That's the precise reason why fulfilling of his masterful plan, which unfolds better than he could have ever imagined, ultimately doesn't bring him satisfaction. This character is created to be hated, yet, somehow, after all, you will probably feel at least a little sympathy for him. There lies the greatness of this acting creation.
---
Asami Yamazaki (Eihi Shiina) – Audition (1999)
Who is the mysterious Asami Yamazaki? No one really knows, not even the viewer.  On the outside, she looks innocent and shy, wearing long white gowns all the time and having a very dismissive tone in her dialogue. She even practiced classical ballet and piano for 12 years. That's a sign of a good girlfriend, right? Well Widower Aoyoma certainly seems to think so until he notices that none of her references check out, her "agent" has been missing for a year, and her job doesn't exist.
Well, while Asami may have the world fooled, we soon find out that she's anything but innocent. For one, she has a thing for dismembering men by piano wire and stuffing them into sacks she keeps in her house. And then she cooks them a gourmet dinner of her vomit and puts it in a dog bowl for them to eat.
Here's the thing: It's probably not a good idea to hold a fake audition as a ruse to find a new wife because the woman will inevitably find out. And if she's mentally unstable like Asami in Takashi Miike's 'Audition,' you are going to wish you used OkCupid instead.
The famous NSFW moment: the torture scene at the end shows Asami at her most secure, when she decides to torture Aoyoma by putting needles in his eyes and cutting off his foot with wire. You will never be able to listen to the word, "deeper" the same way again.
---
The Terminator (Arnold Schwarzenegger) – The Terminator (1984)
Long before "The Terminator" was a good guy helping John and Sarah Connor eliminate cyborg threats sent back from the future, he was the original cyborg threat, sent back in time to kill Sarah Connor before she could give birth to the man who will save the world when Skynet becomes self-aware and the man vs. machine war begins. Arnold Schwarzenegger's robotic line delivery and movements are chilling, especially when you load him up with all those muscles and gun power.
---
Gollum (Andy Serkis ) – The Lord of the Rings Trilogy (2001 – 2003) & The Hobbit: An Unexpected Journey (2012)
Sometimes it's a particularly shiny treasure that sets a man down a very bad path. Take Gollum, for instance — a former Hobbit so smitten with a gold ring that he became a hideous, withered creature, obsessed with his "precious."
Gollum can be creepily quiet and calm, but behind that veneer and those big eyes he's manipulative and calculating, concerned only with keeping the treasure in his grasp.
And who can forget the best line from the greatest trilogy of all time – Every time Gollum says: "My…Precious!"
---
Frank (Henry Fonda) – Once Upon a Time in The West (1968)
The legendary filmmaker Sergio Leone wanted to shock the audience by giving Henry Fonda, one of the America's favorite good guys, the role of the ruthless, sadistic killer working for a railroad baron who has his eyes on the piece of land owned by a beautiful and stubborn woman.
From the first frame which he is in, Henry Fonda mesmerizes the audience, delivering a truly captivating performance. He enters the movie by cruelly executing a child who heard his name, and finishes with the famous "keep your loving brother happy" sequence. Both of those scenes and everything in between is showered with his unique talent to produce fear wherever he appears.
Like any other practical man, he will do absolutely anything to achieve his goals. He is certainly evil and cynical, but not mindless – he isn't particularly ambitious, yet he doesn't hesitate to kill anyone who crosses his path. Fonda's iconic icy cold stare and glorious screen presence made Frank one of the most memorable villains of all time. In Henry's own words, Frank was his favorite character he had ever played.
---
Amy Dunne (Rosamund Pike) – Gone Girl (2014)
At the beginning of David Fincher's Gone Girl, Nick Dunne says, "When I think of my wife, I always think of the back of her head. I picture cracking her lovely skull, unspooling her brain, trying to get answers." And unfortunately, there aren't any to be found. This is just an inkling of what Amy Dunne is like.
Raised to become the center of her parents' successful life, Amy is desperate to get out of the spotlight. Her husband expects a cool, passive wife who lets him do whatever he wants, but she shows him exactly the opposite.  She goes through so many measures to frame her unfaithful husband in her fake death and makes sure that every intricate detail is there, even going as far as hurting herself.
That is some kind manipulation that hasn't really been seen in film. By the end, she's cast her spell on the audience so well that we don't know whom to root for anymore.
---
Anton Chigurh (Javier Bardem) – No Country for Old Men (2007)
The character played by Javier Bardem has already made it to many lists of the best villains, even though the film is only 7 years old. Bardem didn't think he was fit to play Anton at first, for he hated violence, drove badly and spoke below average English. However, the Coens followed their vision, thus creating an extremely memorable murderer, who feels no compassion or remorse towards his victims (he often decides about their destiny by simply flipping a coin), and yet, has a twisted moral code of his own.
In some aspects, he bears a strange resemblance to the Terminator, since he is capable of enduring great pain, and he is almost unstoppable when he wants to kill his victims. Actually, he kills most of the characters he meets or talks to, showing no mercy or sympathy whatsoever. He may look funny with his unconventional hairstyle, but he is the kind of guy you don't want to mess with. Ever.
---
Joe Cooper (Matthew McConaughey) – Killer Joe (2011)
Killer Joe confirmed that Matthew McConaughey was on a rapid upward trajectory. Indeed, 'Killer' Joe Cooper is his best performance to date.
Joe is a Dallas detective who moonlights as a contract killer. When he is approached by Chris Smith (Emile Hirsch), a degenerate reprobate who wants his mother dead, Joe initially refuses because Chris can't meet his rate. However, when he sees Chris's teenage sister Dottie (Juno Temple), they come to an arrangement where Dottie will serve as a sexual retainer. Nice.
Although Cooper maintains a steely reserve for much of the film, each syllable of his southern drawl is loaded with a palpable danger. He creates a pervasive, looming sense of dread and depravity that suggests something very bad is going to happen at any moment.
After unnerving us with his insouciant Texan menace, Joe fully unhinges his bestial psychopathy in the lewd third act of Tracy Letts' wickedly scuzzy script. As you may be aware, it involves the gross misuse of a delicious piece of 'K Fry C'.
---
Patrick Bateman (Christian Bale) – American Psycho (2000)
The suave, meticulously dressed and groomed Patrick Bateman is a sociopath of the highest order, and a cold-blooded serial killer. But he's also a total snob who will make you sit through his monologues on Huey Lewis and the News before he murders you. He also tries to feed a kitten to an ATM machine, which, we don't think we need to explain, is totally bad. But the big question raised at the end of the film, based on the novel by Bret Easton Ellis, is whether Patrick Bateman was a serial killer, or if he just imagined the whole thing? Either way, it takes a really bad guy to perpetrate these heinous crimes — imagined or otherwise.
A theoretical challenge: Can your protagonist be a misogynistic, vain, bloodthirsty serial killer without an ounce of genuine human empathy, and still be somehow likable? The difficult truth is that the more viewers can model themselves after protagonist Bateman, the more they can distance themselves from the human reality of the slick violence that fills the screen and take it all as some kind of a cool joke, the more they are likely to enjoy this stillborn, pointless piece of work.
---
Agent Smith (Hugo Weaving) – The Matrix Trilogy (1999 -2003)
Agent Smith is a virus — no, really, he's a virus infecting 'The Matrix' and it's up to Keanu Reeves' Neo to stop him. Setting aside the fact that we'd rather not live in a world where it's up to Keanu Reeves to save the day, we have to hand it to Agent Smith for being one hell of a bad guy. He's sort of the modern sci-fi response to the Terminator, using a monotone voice and hiding his eyes behind those sunglasses so we have no idea what he's really up to — it's just creepy.
---
 Dennis Peck (Richard Gere) – Internal Affairs (1990)
Raymond Avila (Garcia), a smart, headstrong cop, joins the Internal Affairs division of the L.A.P.D. he must investigate a a police brutality case that leads to one of the police force's most notorious cops; Dennis Peck (Gere), a suave womanizer, clever manipulator, and crooked cop who uses his fellow officers as pawns for his own nefarious purposes while showing a tender side as a devoted father. A rogue cop who does what he wants without fear of consequence. Avila, the Internal Affairs, agent who becomes obsessed with catching Peck when he suspects that Peck is not the poster boy police officer that the precinct has made him out to be. But as Peck catches wind that Avila is on his case, he begins to retaliate, digging into Avila's personal and professional life, leading to both cops unraveling to a brutal showdown.
While you may not think of Richard Gere as intimidating, this is the movie where he proves you wrong. He's got his signature Gere charm, but behind it is a sort of menacing rage, which he can turn on and off with the flip of a switch. It's damn near psychotic and a marvel to watch. If anything, it's a reminder that Gere is capable of much more than just the slightly flawed nice guy roles he usually inhabits. Here, he is a true villain, a bad guy with no redeeming qualities, yet the charm to make you like him regardless. That's no easy feat to pull off, but Gere nails it.
His ruthless demeanor is put on full display in a scene where his partner, Van Stretch, is shot. It's revealed that Peck set up the shooting and is staging a crime scene, ultimately wanting his partner's death to look like it happened "in the line of duty." When he sees that Van Stretch is still breathing, he wraps his arms around his head, as if comforting him. Instead, Peck chokes the remaining life out of him, telling him to "breathe" all the while. When back-up arrives, it looks like Van Stretch simply died in his arms and Gere never misses a beat, looking like he is genuinely in shock. It's a great scene that really gets to the heart of the character, which is ice cold and remorseless, willing to do anything in order to continue his way of life.
---
Scorpio (Andrew Robinson) – Dirty Harry (1971)
The AFI listed 'Dirty' Harry Callahan as the 17th greatest hero in cinematic history. Dirty Harry is not a performance of great dramatic range, but Eastwood's character is as iconic as they come – it laid the blue print of the modern anti-hero. However, it's a pity that Callahan's nonchalant magnetism seems to have eclipsed what is the best performance of the film – Scorpio.
Played with sadistic abandon by Andrew Robinson, Scorpio is an utterly demented serial killer who operates with no moral compass whatsoever. He delights in tormenting the San Francisco Police Department as he kills women, a priest and a black child.
After Eastwood spotted Robinson during a performance of Dostoevsky's The Idiot, Don Siegel cast him because he had 'the face of a choir boy'. This was a sage decision, for it is Robinson's boyish manner and appearance that makes Scorpio so memorable.
He relishes violence and deception with an excitement you'd expect of a child with his favourite Christmas present. Indeed, Scorpio displays a twisted affinity for children, such as when he looks on at a busy playground with a wistful smile or when he sings nursery rhymes on a school bus he has hijacked, only to start hitting the children when they stop singing along.
His juvenile nature also manifests itself in a groveling cowardice whenever his back is against the wall. This is particularly apparent when Harry violently interrogates him on a playing field, causing him to squirm like an upturned cockroach. It's such a brilliantly deranged performance.
Thankfully, justice is served by way of magnum force in one of most strikingly cool showdowns in cinematic history.
---
La Femme (Béatrice Dalle) – Inside (2007)
'Inside' is a French horror film about a pregnant widow who's decided to stay home by herself just as she's preparing to give birth. Her life is sad and lonely enough, but then La Femme (Beatrice Dalle) enters the picture, banging on her door and demanding she give over the baby inside her.
The film devolves into a nasty home invasion thriller with moments that are violent and incredibly difficult to watch, as La Femme shows us just how she plans to get that baby out of our young protagonist's belly. Hint: it involves scissors.
From brutally murdering police officers to stabbing Sarah in her stomach, La Femme's gory methods to get a baby fetus makes her one of the more desperate female horror villains out there.
---
John Doe (Kevin Spacey) – Seven (1995)
The iconic appearance of Kevin Spacey in this movie lasts for only about 20 minutes, yet after the ending credits roll, it is forever carved into the minds of the viewers. He didn't want to be credited at the beginning in order for the audience to be shocked and appalled when he appears.
"Seven" is considered to be one of the best thrillers in the last thirty years, and one of the contributing factors is certainly having a genuinely terrifying villain, who doesn't flinch when talking about gruesome crimes he committed, in order to draw the world's attention to our sinful society.
Very well-educated, very intelligent, and very rich, John Doe is a kind of bad guy you secretly admire because he never misses anything, and he is extremely clever. The arguments he offers make viewers look deep down into the dark corners of their own psyche. A harrowing finale in which he wipes a sarcastic grin off the main character's face will stay with you forever and a day. The character of John Doe is a vital factor for the quality of this movie, which is every bit as good as "The Silence of the Lambs".
---
Albert Spica (Michael Gambon) – The Cook, The Thief, his Wife and Her Lover (1989)
In the opening scene of Peter Greenaway's notorious, nauseous cult classic, Albert's entourage pin a man to a car bonnet while Albert smears dog shit over his face, chest and legs. He then unzips his trousers and urinates on him. Need I explain any further why he deserves to be on his list?
I do? Well, Gambon also plays the character with a wondrously theatrical Dickensian cockney accent while he delivers lines like 'next time I'll make you eat your own shit, after first forcing it out of your dick like toothpaste!'
Albert is a crass, corpulent pig who lords it over everyone like an X-rated Bill Sykes – it really is a challenge to think of a more boorish individual.
---
Catherine Tramell (Sharon Stone) – Basic Instinct (1992)
Speaking of trashy erotic thrillers, they don't get much trashier than Paul Verhoeven's Basic Instinct. In it, troubled police detective Nick Curran (Michael Douglas) investigates a murder of a rock star which may have been committed by the smart, sexy, sociopathic and – get ready to clutch your pearls, ladies! – bisexual novelist Catherine Tramell (Sharon Stone). Despite all the corpses piling up around Catherine, Curran begins a steamy affair with her… with deadly consequences.
After appearing in such movies as Police Academy 4: Citizens on Patrol and King Solomon's Mines, Sharon Stone got her big break by uncrossing her legs during the scene of police investigation. Thanks to her performance and Verhoeven's direction, this lurid sex thriller is an experience so visceral, it almost makes the viewers suspend their disbelief in the film's over-the-top plotline. Hailed by some as a great neo-noir film and booed by the gay community for its representation of a bisexual female character as a psychotic killer, Basic Instinct made millions at the box office.
---
Clarence J. Boddicker (Kurtwood Smith) and his crew – RoboCop (1987)
RoboCop is a film that positively bursts with villainy. Not only is there Clarence and his band of psychopathic criminals, there's also Ronny Cox as Dick Jones, the ultimate corporate devil. Both men are nasty bastards, but Jones is just about the lesser of the two evils.
Clarence is quickly established as a man who cares about no one, not even his own accomplices, one of whom he throws out the back of a van into the windscreen of a pursuing police car.
He then abets the shockingly vicious murder of Officer Murphy, whose corpse will be reanimated as RoboCop. For Clarence, killing a cop is a sick game; he blows Murphy's hand off with a shotgun and remarks to the others: 'Well give the man a hand!' His minions then shoot him to pieces before Clarence finishes him off with a shot to the head. The way the men laugh is so sadistic, especially the shrill, hyperactive chortle of Joe Cox (Jesse D. Goins). It's a genuinely unpleasant scene.
Outside of this though is a character you love to hate, especially when he delivers RoboCop's best line: 'Bitches, leave.'
---
Captain Vidal (Sergi Lopez) – Pan's Labyrinth (2006)

Sergi Lopez gave a spine-chilling performance as a fascist Spanish Army captain during the Second World War. Sadistic and cruel, he is a true representative of the authority at the time. He is given the task of cleaning out the remaining leftists from Spanish forests and hills, while trying to care for his new wife and his child she is bearing. Simultaneously, he has much less affection for his stepdaughter, who escapes gruesome reality orchestrated by him and his collaborators.
In this dark and violent fairy tale, Captain Vidal is the element of evil, which tries not to allow the "happily ever after" ending. His repressed and troubled mind, blinded by the wrong ideology, leads him to destruction, and he literally goes out with a bang. His acting was deservedly hailed by both the critics and the audiences, and one of the strongest elements of the movie.
---
Louis Cyphre (Robert De Niro) – Angel Heart (1987)
A darkly mysterious man hires a private detective to find a singer who vanished and doesn't want to be found, in order to settle an old score with him. Things then become progressively grim and dark. Robert de Niro hasn't got a lot of screen time, but he manages to deliver a breathtakingly menacing and ominous performance.
Only a handful of actors could turn an ordinary thing like eating an egg into something so disturbing. He utters famous lines with such charisma and power, that we have to admire him in a way, even though we know who he is.
Sir Alan Parker later said that Bobby D's performance was so realistic and eerie that he tended to avoid him during his scenes, letting him direct himself. Although the film bombed at the box office when it came out, it is now considered a cult classic and De Niro's towering performance is regarded as one of his best roles to date, with a very good reason.
---
Baby Firefly (Sheri Moon Zombie) – House of 1000 Corpses (2003) & The Devil's Rejects (2005)
Besides hardcore metal tunes, Rob Zombie is good at creating something else: a family full of sadistic freaks. The Firefly family has mutilated, sexually assaulted, and tortured hundreds of people, and yet Zombie humanizes them so we sort of cheer for them. 
"Baby" is no exception to that. She uses her childish and sexual behavior to lead people in her family's traps. She'll faint in the road to lure an old lady out of her car, and pretend to be a hitchhiker to get a group of teens to take her home. And even with all of those murders under her belt, you still want to be her best friend. Her playfully begging to get some Tutti Frutti ice cream with her brothers made viewers forget that she just murdered someone in the scene before.
And of course she gets a few fun torture scenes of her own, such as "the guessing game." In case you don't want to get your scalp cut off, her favorite actress is Betty Davis.
---
Norman Stansfield (Gary Oldman) – Leon: The Professional (1994)
Probably the most vicious movie policeman (together with the bad lieutenant), Gary Oldman's Norman Stansfield is a Beethoven-loving drug-dealing, corrupt junkie DEA agent with no moral scruples whatsoever. He coldly organizes the assassination of an entire family out of revenge for a quite trifle matter, and then does his best to locate the remaining member of the family, a girl who, in the meantime, crossed paths with a professional hitman, who is, in turn, an extremely hard nut to crack.
Gary Oldman improvised several sequences on the spot, in order to make his character even more bizarre, creating a combination of a person so chillingly evil, but at the same time so quirky and interesting, that it is a real wonder how he didn't get at least an Oscar nomination for his brilliant work.
EVERYONE at the Academy should be ashamed….
EVERYONE!
---
Tyler Durden (Brad Pitt) – Fight Club (1999)
Throughout much of Fight Club, the main question on the viewer's mind is most likely "Who is Tyler Durden, exactly?" It's a fair question that the film does eventually get around to addressing, albeit in a complex manner open to some interpretation. From there, the question turns into "Is Tyler Durden a villain?"
Though the Robin Hood-esque motivations of Durden make it tempting to sympathize with him, ultimately, he is a cult-like leader with terrorist intentions to destroy several buildings. Intentions that come to life at the film's conclusion as Durden stands witness to the culmination of his revolution. He does get his brains blown out in the end, but not before his victory was complete.
---
Early Grayce (Brad Pitt) – Kalifornia (1993)
Directed by then music video director Sena, KALIFORNIA not only features some of the most memorable lines around ("the amount of times Pitt says, "dipshittt" is great), but has a cast that just sucks you right in. We've got our protagonists, Brian Kessler and Carrie Laughlin (A hypnotic pairing of X-FILES star David Duchovny and TRUE BLOOD's Michelle Forbes), a true crime writer and his photographer girlfriend looking to find out why serial killers do the things they do by planning a cross country trip across the United States in order to visit the scenes of said tragedies and turn them into a literary and visual coffee table book of carnage. That alone is worth checking the film out, but what elevates a gritty look at death and nature vs. nurture into a whole other atmosphere, is the film's antagonist, Early Grayce (a pre-LEGENDS OF THE FALL/INTERVIEW WITH THE VAMPIRE stardom era Brad Pitt) and his absent minded girlfriend Adele. Grayce is the opposite of Brian, while Kessler hangs with pretentious art-types and lives in an artists' loft, Early and Adele spend their days in a dirty trailer, dodging both their landlord and Grayce's parole officer. It's a very interesting juxtaposition to see, the four characters and two couples' differences couldn't be any more different from each other.
The obsession with all things serial killer can be trailed back decades and decades from the fascination with the notorious Manson murders to even the Black Dahlia murder years before. It's a mystery deeply rooted in a lot of us wanderers. "Why do people kill and what enjoyment do they receive from it?" isn't a new question and it's a question and theme that has filled many movies throughout the years. Though I can be found drooling over the magnificence of David Fincher's ZODIAC or reading a barrage of James Ellroy or Jim Thompson novels to pass my dark curiosity, the 1993 Dominic Sena-helmed 'KALIFORNIA' is one piece of cinema that always fills that void of serial killer mystique, giving viewers a look at obsession with murder and an interesting answer to the question of "why do people kill?"
The majority of the film happens out and about, as the essayist and picture taker progressively get to be distinctly mindful of the way of the general population who are sharing the ride. It is here that the film uncovers its significance. A lesser film would basically be a thriller in which the heroes would frantically plan to escape from the executioners in their auto. "Kalifornia" is substantially more unpretentious than that. It's about the interesting interest that a few people feel for the individuals who appear to be harder and that's only the tip of the iceberg "real." Usually the individuals who romanticize in that way have never needed to manage any individual who harms others only for the diversion esteem. 
"Kalifornia" is undoubtedly an underrated gem of a thriller, full of blood, wit and a performance from Pitt that to this day is only matched by his performance in SE7EN.
---
Norma Desmond (Gloria Swanson) – Sunset Boulevard (1950)
"We didn't need dialogue. We had faces." – There are plenty of close-ups of Gloria Swanson's face in Sunset Boulevard, many of them unsettling. Swanson's performance is eerie and hyper-stylized – all bulging eyes and claw-like fingers. Swanson's acting is at least partially informed by the silent movie era from which she became famous. Director Billy Wilder set out to make a noir drama about a faded Hollywood star, so he hired himself a faded Hollywood star.
In Sunset Boulevard, Swanson plays Norma Desmond, forgotten star of the silent films. Desmond spends her days dreaming about her great return to the big screen. She hires cynical screenwriter Joe Gillis (William Holden) to fix a screenplay for her great come-back epic Salome. It's through his eyes that we witness all of Desmond's bitterness, sadness, anger and, eventually, insanity. At the end, her madness makes her both pathetic and awesome and we believe Desmond when she claims that she's still big and it's the movies that got small.
---
Percy Wetmore (Doug Hutchison) – The Green Mile (1999)
Percy Wetmore is a reptilian little pygmy whose petty authority allows him to torment those who can't fight back. He is also protected from his colleagues because he is the nephew of Louisiana's First Lady. This is the recipe for 180 minutes of pure indignation.
Percy wages a campaign of hate against one inmate in particular, Eduard Delacroix, but he still doesn't get the satisfaction that his malignantly vindictive soul craves. Percy's final act of violence against Eduard is so appalling that even he appears to be disgusted with himself.
Much of the character's hatefulness is achieved by Doug Hutchison's dark, often sunken eyes and his downturned, open mouth. The latter trait gives Percy such a smug manner that you want to fill it with your fist – several times.
---
Wild Bill Wharton (Sam Rockwell) – The Green Mile (1999)
Even though he was already in the movies for a decade or so before filming "The Green Mile", this was virtually the first bigger role for Sam Rockwell, and he used his opportunity very well.
It is not a particularly meaty one, nor he has much screen time on his hands, yet he manages to be extremely convincing in the role of a sadistic child molester and killer, for whose crimes someone else is waiting to be executed. He behaves exactly like a man who doesn't care about anything, and never contemplates the atrocity of his heinous crimes – he is loudmouthed, reckless and extremely sadistic.
As such, he locks horns with another similar character – a mean-spirited prison guard played by Doug Hutchison. What happens to both of them is somehow both twisted and poetic, a combination so recognizable when Stephen King is the writer. Rockwell did his best to demonstrate all the perversion of this character's truly abominable mind, for a short amount of time he was on the screen.
---
O-Ren Ishii (Lucy Liu) – Kill Bill: Volume I  (2003)
Quentin Tarantino is one of the masters of creating fascinating female characters. The Bride and Jackie Brown are examples of great female protagonists, while O-Ren Ishii is an example of a great female antagonist. She's a woman of few words who uses her sword to say what's she thinking.
After seeing her parents brutally murdered, she became an assassin at age 11 to avenge their deaths (as told in an awesome anime sequence). From there, she became one of the best-hired killers in the world and the head of the crime organization known as Crazy 88.
Working in a man's world, O-Ren has to maintain dominance so the crime council will continue taking her seriously, and she does so through bloodshed. She decapitated a man for insulting her Japanese-Chinese-American heritage, so that should be your first clue that this girl doesn't fuck around. If anything, O-Ren is known for her epic fight in the snow with the Bride. In a way, it was an honorable way to die. It fit in perfectly with her tragic story.
---
Gordon Gekko (Michael Douglas), Wall Street (1987)
The inspiration for Buffalo Bill's character came from Gary Heidnik (L), Ted Bundy (M), and Ed Gein (R). Heidnik tortured female victims in a pit in his basement, Ted Bundy wore a fake cast on his arm to lull his victims into a false sense of security, and Ed Gein liked to wear the hides of skinned corpses.
---
Roy Batty (Rutger Hauer) – Blade Runner (1982)
Harrison Ford, with his Star Wars cachet, was Blade Runner's top-line draw, but it's Rutger Hauer's movie all the way, his shimmering "replicant" providing the tonal touchstone for Ridley Scott's severally reworked masterpiece. The Dutch actor even contributed his own infinitely quotable couplet to the film's epochal "Tears in Rain" scene, a moment as iconic as Casablanca's "Here's looking at you, kid". As for Deckard, the stooge who falls for Sean Young's artificial charms in rain-drenched 2019 LA, Scott had his own way of explaining Ford's robotic performance, a unicorn-themed conceit drawn not from Philip K Dick's source but born out of a simple miscommunication between screenwriters Hampton Fancher and David Peoples.
He first appears clenching his fist and ruminating about time. He quotes (or misquotes depending on your perspective) William Blake, and is fond of chess. Batty is Frankenstein's monster, the prodigal son and Lucifer fell to earth all at once. He desires longevity and freedom, but at the same time, despises his creator. He is physically superior to humans, yet cursed with a four year lifespan.
♠ Read more about 'Roy Batty' in this full retrospective Blade Runner post.
---
Amon Goeth (Ralph Fiennes) – Schindler's List (1993)
Among many fantastic acting performances in this movie, one stands out – Ralph Fiennes was the best actor of the whole ensemble, his bone-chilling portrayal of Amon Goeth. He plays him as the epitome of evil, and the scenes where he takes down Jews with a sniper, and talks about making history, are truly harrowing.
His character is actually based on the testimonies of Holocaust survivors, and some viewers were genuinely frightened seeing him in the flesh, wearing a Nazi uniform, because he reminded them of the real Amon Goeth. His cruelty is also one of the reasons why the main character becomes a humanitarian, so he is, in a way, essential for the story itself.
Even though Amon Goeth doesn't have any redeeming qualities, Fiennes manages to portray him as a multi-layered character, and make him the most famous real-life villain in the history of cinema.
---
Ralph Fiennes — "Lord Voldemort" in The Harry Potter films (2001-2011)
Ralph Fiennes has been in a number of notable films where he played mostly negative characters. But his portrayal of Harry Potter's nemesis Lord Voldemort, aka The Dark Lord, deserves special attention.
---
Paul and Peter (Arno Frisch & Frank Giering) – Funny Games (1997 )
The introduction of this list outlines how some villains are a pleasure to hate while others cause the proverbial red mist to descend. Well, Peter and Paul fall firmly into the latter category.
The premise of Michael Haneke's Funny Games is simple – two young men raid a family's home and submit them to physical and psychological torture. Haneke's commentary on society's supposed celebration of violence is ill considered, but he certainly displays his talent for creating excruciating cinema – it really is a tough watch.
Paul and Peter are the most hateful villains on this list because they are given such free, unaccountable reign to be evil. Paul also breaks the fourth wall, smugly tormenting you as well as his hapless victims.
Funny Games is a film that leaves you so indignant you feel like throwing the damn thing in the bin – it's not easy for a filmmaker to get under your skin like that.
---
Krug Stillo (David Hess) – The Last House on the Left (1972)
Like Funny Games, The Last House on the Left is a film about senseless violence, this time perpetrated against two kidnapped young women – Phyllis (Lucy Grantham) and Mari (Sandra Peabody). It's a rough, dated piece of work, but it still retains some visceral power.
Krug is a hairy, leering serial killer who has escaped from prison with Junior, his heroin addicted son; Sadie, an unhinged nymphomaniac; and Weasel, a scrawny, child abusing sexual degenerate. Determined to continue their mindless campaign of cruelty, it isn't long before Junior – entirely servile to his father who provides his next fix – manages to trap the two girls while promising them marijuana.
The litany of sadism quickly commences. Krug punches a woman in the stomach, carves his name into the chest of another and even convinces a man to commit suicide, but he's most offensive when he forces to Phyllis to urinate herself and drools on Mari's face as he rapes her.
To move away from classicism and rape apologists, the film itself was put together in an incredibly strange way. The soundtrack often seemed completely at odds with the action on screen, and there are often odd scenes of comic relief slotted into the film – there is a scene half-way through the film in which an incompetent pair of police officers have to try to hitch a lift on top of a truck filled with chickens. It's utterly bizarre, and seems to come from an entirely different film altogether. I suppose the idea is to show how regular life goes on despite the violence and horror happening so close-by: sexualised violence isn't divorced from the rest of society, it doesn't happen in a bubble. You can be hitching a ride in a chicken-truck while someone nearby is fighting for your life. Despite this aim, I really don't think it works. It creates this strange mood dissonance which the film would have been much better off without.
---
Ava Lord (Eva Green) – Sin City: A Dame To Kill For (2014)
Eva Green seems to be making a career of being the best thing in bad movies. She played the villainess in two pretty bad films in one year, and yet in both, she was an astonishing and irresistible screen presence. In 300: Rise of an Empire, she played a vicious killing machine named Artemisia who hate-screws her foes, and severs heads with amusing glee. In Sin City: A Dame to Kill For, she plays the eponymous dame who waltzes around, freely nude, teasing and torturing every man who wanders into her sight.
The 2nd movie in the "Sin City" franchise was bad, a lot of things in it sucked. But Eva Green was awesome (and hot!).
But no, demure is not really the word for her. But a "dive" might just work, as she does, time and again, into these depths of gorgeous depravity, she still always manages to keep her long glamorous sleeves clean. She's a class act.  
---
Bill The Butcher (Daniel Day-Lewis) – Gangs of New York (2002)
The phenomenal portrayal of the xenophobic and violent gangster by the fantastic Daniel Day-Lewis stole the entire show. His performance was the best thing in the movie. Famous for his methodical approach Day-Lewis used his accent even off the set, but was also working as a butcher for six months before the filming began.
He does a marvelous job by lifting his character above being one-dimensional. He is a knife-throwing, moustache-twirling villain, no question, but he shows recognizable touches of humanity, adding him depth and complexity.
While the plot of the movie is quite predictable, it is Bill the Butcher who drives the story forward pretty smoothly. Even though the viewers know they are supposed to hate him, there are some moments when they can develop a strange liking towards this character. Daniel Day-Lewis was nominated for both an Oscar and a Golden Globe, and won the BAFTA award for his stunning work. It was worth returning to acting after seven years because of that.
---
Hans Gruber (Alan Rickman) – Diehard (1988)
When you have a voice like Alan Rickman's, you come out to this world all ready to play a memorable villain. As terrorist Hans Gruber, Rickman proved that you don't have to get your hands dirty (well, maybe a little) to be an effective and one of the greatest ever villains in history. 
Before he gave Harry Potter a hard time at Hogwarts, Rickman made playing a villain look good. That's right, Professor Snape wasn't the first time the actor was despised for one of his characters. Rickman was just so good at playing bad, and I'm sure his fans wouldn't have it any other way. Alongside Bruce Willis' hero John McClane, Rickman brought to life an iconic villain
---
Tony Montana (Al Pacino) – Scarface (1983)
There aren't many unfamiliar things about this iconic, over the top performance by Al Pacino, which defined this film as one of the cult classics of the eighties. Although it is a typical rags-to-riches story, Pacino succeeded to make his character multi-layered, and make the viewers understand his actions very well. Great ambition leads him to even greater power, with obsession and greed in the way.
From confident advances towards the lady of his boss, to cocaine-crazed fits of rage, Tony Montana is a dominant figure throughout the entire movie. Ironically, what causes his ultimate downfall is not drugs, nor avarice, but the overprotective relationship with his sister and a code about not hurting women and children. When you are as deep into the world of crime, you can't afford being sensitive. His character made this film a cult classic, even though it is actually a remake.
In June 2008, the American Film Institute revealed its "Ten Top Ten"—the best ten films in ten "classic" American film genres—after polling over 1,500 people from the creative community. Scarface was acknowledged as the sixth best in the gangster film genre. The 1983 version was placed 10th, making Scarface the only film to make the same "10 Top 10" list as its remake. The character of from the original 1932 film "Tony Camonte" was ranked at number 47 on AFI's 100 Years… 100 Heroes and Villains list.
As for Tony Montana, just "Say Hello to His Little Friend!" — the Colt AR-15 with M203 Grenade Launcher a.k.a. "Little Friend":
The Fake M203 grenade launcher was custom made for use on the film and the firing pin has been removed to prevent the use of live rounds. The launcher was fabricated because the property master was unable to locate any live firing grenade launchers for production. He had this M203 grenade launcher hand crafted (not molded) by the studio prop department. The launcher was created with an extra large trigger guard and wider ribbing on the barrels than are found on the traditional M203 design. Originally an M16A1 was used with the grenade launcher and the full auto converted AR-15 was substituted after cinematographer John Alonzo determined that the AR-15's firing sequence could be timed to synchronize with the Arriflex cameras, which would result in elongating the duration of muzzle flashes seen on film.
---
Keyser Söze (Kevin Spacey) – The Usual Suspects (1996)
Keyser Söze is a fictional character and the main antagonist in the 1995 film Academy Award winning film The Usual Suspects, written by Christopher McQuarrie and directed by Bryan Singer. According to petty con artist Roger "Verbal" Kint (Kevin Spacey), Söze is a crime lord whose ruthlessness and influence have acquired a legendary, even mythical, status among police and criminals alike. Further events in the story make these accounts unreliable, and, in a twist ending, a police sketch identifies Kint's face as Söze. The character was inspired by real life murderer John List and the spy thriller No Way Out, which featured a shadowy KGB mole.
The character has placed in numerous "best villain" lists over the years, including AFI's 100 Years…100 Heroes & Villains. Spacey won the Academy Award for Best Supporting Actor, turning him from a character actor into a star. Since the release of the film, the character has become synonymous with infamous criminals. Analysis of the character has focused on the ambiguity of his true identity and whether he even exists inside the story's reality. Though the filmmakers have preferred to leave the character's nature to viewer interpretation, Singer has said he believes Kint and Söze are the same person.
First, there's the name. Pronounced KAI-zer SOH-zay, it even sounds ominous. Plus, it's fun to say.
According to Kint, Söze began his criminal career as a petty drug dealer in his native Turkey. His legendary persona is born when rival Hungarian smugglers invade his house while he is away, rape his wife, and hold his children hostage; when Söze arrives, they kill one of his children and demand he surrender his business. Instead, Söze kills his own family and all but one of the Hungarians, who he knows will tell the Mafia what has happened. Once his family is buried, Söze targets the Hungarian Mafia, their families, friends, and people who owe them money. He goes underground, never again doing business in person.
Söze's ruthlessness is legendary; Kint describes him as having had enemies and disloyal henchmen brutally murdered, along with everyone they hold dear, for the slightest infractions, and he personally murders anyone who can identify him. Even his own henchmen often do not know for whom they work. Over the years, his criminal empire flourishes, as does his legend; remarking on Söze's mythical nature, Kint says, "The greatest trick the Devil ever pulled was convincing the world he didn't exist", a line borrowed from Charles Baudelaire.
Kint describes how he and his cohorts are blackmailed by Söze, through Söze's lawyer Kobayashi (Pete Postlethwaite), into destroying a large drug shipment belonging to Söze's Argentinian rivals. All but Kint and a Hungarian are killed in the attack. Baer believes there were no drugs and the true purpose of the attack was to eliminate a passenger who could identify Söze. Kujan confronts Kint with the theory that Söze is one of the four other criminals with whom Verbal had worked: a corrupt former police officer and professional thief named Dean Keaton (Gabriel Byrne). Kujan's investigation of Keaton is what involved him in the case.
In the final sequence, it is revealed that the story that Kint had told Kujan is a fabrication, made up of strung-together details culled from a crowded bulletin board in a messy office. The surviving Hungarian describes Söze to a sketch artist: the drawing faxed in to the police station closely resembles Kint. Kujan realizes the fabrication and pursues Kint, who has already been released, his limp gone. Kint gets into a car, driven by "Kobayashi". As the two drive away, Kujan desperately looks around the crowded streets for him.
The head-slapping climax of "The Usual Suspects" (its script won an Oscar) encouraged other screenwriters to surprise audiences in the final reel and paved the way for "The Sixth Sense," the modern king of twist-ending movies, four years later.
It also made surprise endings fashionable in Hollywood. The next half-decade saw a flurry of twist-ending dramas and thrillers, from "Seven" and "Primal Fear" to "The Game" and "Memento."
---
Tommy Devito (Joe Pesci) – Goodfellas (1990)
Joe Pesci's fast-talking manner fit him like a glove for the role of Tommy DeVito, a short-tempered gangster who doesn't like to be called funny. In Henry Hill's own words, it was a 90-99% accurate portrayal of the notorious gangster Tommy De Simone. Pesci's power of transformation is really a joy to behold, he changes his mood from joyful to infuriated in a matter of seconds. Take the famous "funny" scene where you can see that he is actually angry while he is joking with Henry (Ray Liotta).
Liotta was handpicked by Robert De Niro himself to audition for Scorsese's film and to star alongside him.  De Niro is also the one who brought Pesci to limelight in 1980 through Scorsese's "Raging Bull".
His Oscar for the Best Supporting Actor was really a no-brainer, you can see while watching a movie that he really did his best to be as convincing as possible. Violent, profane, deranged and always ready to kill, he is a typical gangster of the time, but Joe Pesci gave such a haunting performance that you have to think that he put a lot of himself into it, even though you would say that a mad mobster with a dark sense of humor is not exactly his usual kind of role, but he did the job of his career in this one.
There's a day-to-day, business-like vibe to the gangsterdom in Scorcese's modern classic. But pinballing through the middle of it is Pesci: so unpredictably psychopathic that he even intimidates his friends – sometimes for a laugh, which can then turn on a dime back into menace again. Every other word's an F-word too, which makes his final, plaintive, non-profane "oh no" strangely touching.
His Wicked Words: "Funny how?"
Joe Pesci wasn't present at the 25th anniversary celebration of "Goodfellas" at the Tribeca Film Festival two years back. However, that didn't keep him out of conversation during the Q&A that followed the screening of the film. One of the most memorable scenes in "Goodfellas" occurs early on, when the audience is introduced to most of the crew at the Bamboo Lounge. Henry Hill (Ray Liotta) and Tommy DeVito (Pesci) get into a tense exchange in which Pesci asks "Funny how?" Apparently, this scene was heavily improvised and based off of a story Pesci told at rehearsal. Pesci and Liotta partially improvised this memorable scene during rehearsal. See on YouTube.
"And Joe was telling me a story about what happened to him in Queens or wherever it was and he said to some guy … the guy said something who happened to be a connected guy and he said 'Well … you think I'm funny?'" Liotta told the audience.
A young Pesci was a waiter at a restaurant and told a mobster that he was funny. Needless to say, the wiseguy didn't take this compliment too well.
In the film's scene, DeVito seems to get offended after Hill calls him funny. "Am I a clown? Do I amuse you?" he asks.
The "funny how?" scene is one of the most quotable in the whole film. While Pesci is not connected to the mob himself, he grew up around it, and this informed his experience in the film in the best way possible. Scorsese liked this story so much that he allowed Pesci to bring it into the movie. However, he did not tell anyone outside of Pesci and Liotta that the scene would be improvised, because he wanted to see their genuine surprised reactions. 
According to a making-of documentary, Scorsese decided to shoot this scene with only medium takes and no closeups, because he wanted to see everybody's genuine reactions.
"It takes a lot out of you emotionally, the things that you're trying to…it takes so much effort and energy. Either you're there or you're trying to get there, but both of those processes take a lot out of you." – Robert De Niro.
The distinction here between this scene and typical improvisation, is that it was improvised in rehearsal. Scorsese would then write it into the script.
"You don't improvise on camera when we're shooting," Pesci said in an interview during a making of documentary, "They all think that Marty [Scorsese] doesn't do anything, that he lets the actors say 'Okay, go ahead' and enjoys it. It's not true. It's crazy to think you can go in there and make a movie like that. It has to be structured." – (See the clip here).
Pesci won the Academy Award for best supporting actor for his role in "Goodfellas." 
You can watch the (very NSFW) memorable clip below:
Joe Pesci gave what may be the shortest acceptance speech in Oscar history when he won best supporting actor honors for his role of Tommy DeVito in 1990's Goodfellas.
When it was time to receive his award for portraying the foul-mouthed, violent, ill-tempered mobster, Tommy Devito —Pesci, took just a moment to collect himself before saying only five words: "It's my privilege. Thank you."
Although "Goodfellas" was nominated for six Oscars, including best picture and best director, Pesci's was the only win for Goodfellas.  The film has been ranked quite frequently by major critics and film analysts as the "Greatest Gangster Film Ever Made."
Yes, indeed, The Godfather as a film, is still the ultimate and masterful mob/gangster extravaganza. For tv, isn't it The Sopranos? Since our past generation folks never missed an episode. But you want to talk about a movie that leaves a mark right?
Twenty seven years ago the good people behind it—Scorsese, De Niro and yesh that funny guy, Pesci!—created the truest, bloodiest, greatest gangster film of all time with the release of GoodFellas!
Here's to Joe Pesci: 
Goodfellas is at #2 on their AFI's 10 Top 10—the best ten films in ten "classic" American film genres—after polling over 1,500 people from the creative community. Goodfellas was acknowledged as the second-best in the gangster film genre (after The Godfather). Roger Ebert named Goodfellas the "best mob movie ever" and placed it among the best films of the 1990s.
For the record (my own) the team of Robert De Niro as Jimmy Conway, Ray Liotta as Henry Hill and Joe Pesci as Tommy Devito — the trio together were/are the best villains ever since I came into this world…
---
AFI's 100 Years… 100 Heroes and Villains
AFI's 100 Years… 100 Heroes and Villains is a list of the one-hundred greatest screen characters (fifty (50) each in the hero and villain categories) as chosen by the American Film Institute. It is part of the AFI 100 Years… series. 
This is by far the oldest official list. The characters on this list have a made a mark on American society in matters of style and substance. They also elicit strong reactions across time, enriching America's film heritage while continuing to inspire contemporary artists and audiences.
Top 30/50 Villains (Ranked by AFI in 2003)
Rank
Villain
Actor
Film
Year
Notes
1.
Dr. Hannibal Lecter
Anthony Hopkins
The Silence of the Lambs
1991
 
2.
Norman Bates
Anthony Perkins
Psycho
1960
Loosely based upon killer Ed Gein
3.
Darth Vader
David Prowse (voiced by James Earl Jones)
The Empire Strikes Back
1980
 
4.
The Wicked Witch of the West
Margaret Hamilton
The Wizard of Oz
1939
 
5.
Nurse Ratched
Louise Fletcher
One Flew Over the Cuckoo's Nest
1975
 
6.
Mr. Potter
Lionel Barrymore
It's a Wonderful Life
1946
 
7.
Alex Forrest
Glenn Close
Fatal Attraction
1987
 
8.
Phyllis Dietrichson
Barbara Stanwyck
Double Indemnity
1944
 
9.
Regan MacNeil (as possessed by "Satan")
Linda Blair (voiced by Mercedes McCambridge)
The Exorcist
1973
 
10.
The Evil Queen
Voice of Lucille La Verne
Snow White and the Seven Dwarfs
1937
 
11.
Michael Corleone
Al Pacino
The Godfather Part II
1974
 
12.
Alex DeLarge
Malcolm McDowell
A Clockwork Orange
1971
 
13.
HAL 9000
Voice of Douglas Rain
2001: A Space Odyssey
1968
 
14.
The Alien
Bolaji Badejo
Alien
1979
 
15.
Amon Goeth
Ralph Fiennes
Schindler's List
1993
Historical figure
16.
Noah Cross
John Huston
Chinatown
1974
 
17.
Annie Wilkes
Kathy Bates
Misery
1990
 
18.
The Shark
"Bruce"
Jaws
1975
 
19.
Captain Bligh
Charles Laughton
Mutiny on the Bounty
1935
Historical figure
20.
Man
Voiced by Paul Starrs
Bambi
1942
 
21.
Mrs. Eleanor Iselin
Angela Lansbury
The Manchurian Candidate
1962
 
22.
Terminator
Arnold Schwarzenegger
The Terminator
1984
 
23.
Eve Harrington
Anne Baxter
All About Eve
1950
 
24.
Gordon Gekko
Michael Douglas
Wall Street
1987
 
25.
Jack Torrance
Jack Nicholson
The Shining
1980
 
26.
Cody Jarrett
James Cagney
White Heat
1949
 
27.
Martians
Various
The War of the Worlds
1953
 
28.
Max Cady
Robert Mitchum
Cape Fear
1962
 
29.
Reverend Harry Powell
Robert Mitchum
The Night of the Hunter
1955
 
30.
Travis Bickle
Robert De Niro
Taxi Driver
1976
*Al Pacino and Arnold Schwarzenegger are the only actors to appear on both "Heroes" & "Villains" lists. Schwarzenegger appears on both lists portraying different Terminators, while Pacino appears as characters from unrelated films. Out of all the actors who appear on the list, twenty-one of them—received Academy Awards for their performances of that given role. While the rest, with just a handful of exceptions, (for instance, Jack Nicholson for his portrayal of "Jack Torrance" didn't get a nomination. In fact, 'The Shining,' the film itself didn't get a single nomination) received a nomination from the Academy.
The AFI's 100 Years…100 Heroes & Villains, the three-hour television special was hosted by Arnold Schwarzenegger, who earned both a hero and villain honor for his portrayal of the "Terminator," originally aired on CBS on June 4, 2003. The presentation programme was nominated for an Emmy Award for Outstanding Nonfiction Special.
---
Thanks for checkin' it out folks!
♠ I know, this was bats*it lengthy… Hope you've managed to keep yourself calm. However, just to reiterate, if you choose to give this article a chance, you'd end up with more than just a handful of interesting, if not important, titbits. But I'd rather hope you've enjoyed reading some part of it though. ♣
Have a nice day!
: )
Asif Ahsan Khan
---
© 2017 Asif Ahsan Khan. ® All Rights Reserved.